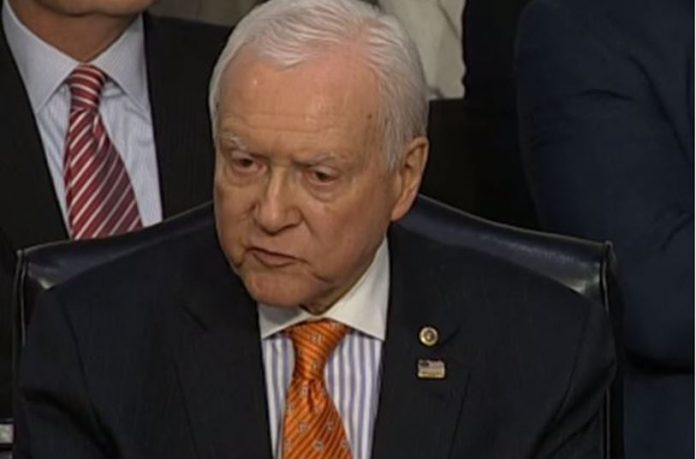 Republican U.S. Senator Orrin Hatch criticized the Trump administration for slapping tariffs on steel and aluminum imports from Canada, Mexico, and the European Union (EU).
In a statement, Sen. Hatch said, "My position remains unchanged: Tariffs on steel and aluminum imports are a tax hike on Americans." He added that the tariffs will "have damaging consequences for consumers, manufacturers and workers."
Furthermore, the senator vowed that he will continue to push the Trump administration to change course. Sen. Hatch us the chairman of the Senate Finance Committee.
On the other hand, Democratic Sen. Ron Wyden also condemned the administration's action. He said the tariffs on U.S.. allies "make no sense." Sen. Wyden is a ranking member of the Senate Finance Committee,
He also noted, that the "administration appears to be pursuing a trade policy that creates economic chaos and uncertainty rather than jobs for hard working Americans."
On Thursday, Commerce Secretary Wilbur Ross announced that President Donald Trump approved a 25% tariff on imported steel and 10% tariff on imported aluminum. The new tariffs will take effect at midnight.
During a conference call with reporters, Sec. Ross said they will continue negotiating with Canada, Mexico, and the European Commission to resolve other issues.
"We take the view that without a strong economy, you cannot have strong national security," said Sec. Ross.
Canada, Mexico, EU will impose retaliatory tariffs on United States
In response, Canada, Mexico, and the EU said they will implement retaliatory tariffs on U.S. products.
During a press conference, Canadian Prime Minister Justin Trudeau commented, "Let me be clear, these tariffs are totally unacceptable." Canada plans to enact duties on $12.8 billion worth of U.S. exports starting on July 1.
Mexico's Minister of Economy Ildefonso Guajardo said his country will impose "equivalent tariffs"on apples, cheeses, grapes, pork legs, and steel from U.S. states that supported Trump in the 2016 election.
"It is a sad day for international trade. But hey, the decision was made, and we always said that we were going to be ready to react," said Minister Guajardo.
Meanwhile, European Commission President Jean-Claude Juncker said the U.S. tariffs are "unjustified and at odds with World Trade Organization rules."  He also called it  "protectionism, pure and simple."
In addition, Juncker said the EU will defend its interests in compliance with international trade law. It will proceed with a WTO dispute settlement case." It will also impose additional duties on a number of U.S. imports.