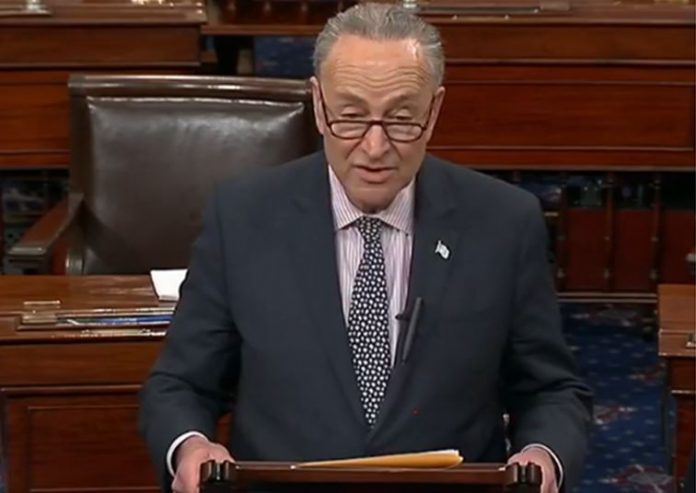 Senate Minority Leader Chuck Schumer defended Special Counsel Robert Mueller and slammed President Donald Trump on Tuesday.
The senator also demanded a vote on a bipartisan legislation to protect Mueller from the President, who may be considering of firing him.
Sen. Schumer called for the protection of Mueller after Pres. Trump blasted the Federal Bureau of Investigation (FBI) for raiding the office, home, and hotel room of his longtime personal attorney Michael Cohen.
Pres. Trump called the FBI raid "disgraceful, witch hunt and a new level of unfairness. He also appeared to be considering firing Mueller, who referred the case against Cohen to the U.S. Attorney's Office for the Southern District of New York. When reporters asked the President about firing Mueller, he responded, "We'll see what happens" and added that many people told him to fire the Special Counsel."
In his speech at the Senate floor on Tuesday, Sen. Schumer said, "By his own words, it's clear the President may be considering firing the Special Counsel. This Congress must respond forcefully and on a bipartisan basis by reaffirming our belief that the President cannot fire Special Counsel without cause."
Additionally, the Senate Minority Leader emphasized that passing legislation will ensure that "any attempt to remove Mueller will be unsuccessful."
Furthermore, Sen. Schumer told his fellow lawmakers, "We should not abide the President's attempt to dissolve the rule of law in America."
Sen. Schumer tells Pres. Trump, "No man is above the law"
Moreover, the Senate Minority Leader emphasized that America is always about and the rule of law. He told the Pres. Trump that he was wrong by saying that the FBI raid on Cohen was a "disgrace."
Sen. Schumer said, "Mr. President, you have it wrong. Interfering with the investigation would be a disgrace. Calling it attack on our country is a disgrace. What matters is the rule of law. In this country, no man is above the law, not even the President. Mr. President your comments were the disgrace."
The Senate Democratic Leader also warned the President to not use the FBI raid as an excuse to fire Mueller or interfere with the chain of command in the Russia probe. "Don't even think about it," he said to Pres. Trump.
Sen. Schumer went on to say that Mueller discovered a "deep and detailed pattern of Russian interference our elections." His investigation led to several indictments and guilty pleas. It also prompted the Trump administration to level sanctions against Russian individuals for meddling in the elections.
The senator emphasized those results were positive proofs that Mueller's investigation is not a "witch hunt."  He said the Special Counsel must continue his investigation because it is critical to the health of the U.S. democracy and the security of future elections.