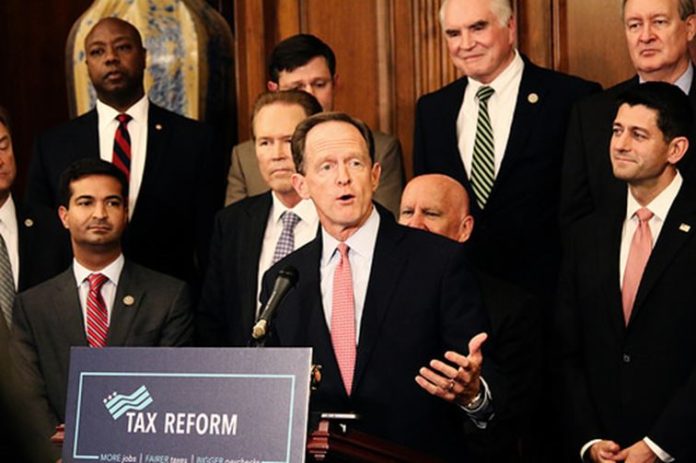 U.S. Senator Pat Toomey of Pennsylvania believes that the Republican tax reform is an amazing opportunity and responsibility.
He believes that enacting legislation consistent with the Trump administration tax reform framework will help the country achieve strong growth.
In a statement, Toomey said, "There's nothing normal about two percent growth for the United States of America. We're capable of so much more. When we get this right, I am confident that we will achieve robust growth."
Pennsylvania families will benefit from tax reform
Additionally, the senator said hard working families across Pennsylvania will benefit from tax reform. He said they will receive "direct pay raise when we lower their tax burden.
Furthermore, Toomey said Pennsylvania families will also get "indirect pay raise" because more jobs will be created and more business will be launched.
According to him, "Upward pressure in wages allows people to have higher standard of living.
Sen. Toomey addresses the concerns of business owners
On Friday, Sen. Toomey held a discussion with local business leaders in Williamsport. He addressed their concerns about the GOP tax plan.
The senator explained to the business leaders that the tax reform is still in the planning process. He told them that the GOP tax reform will improve the economy in Central Pennsylvania.
Toomey reiterated his view that families living in Williamsport will see a pay increase if the Congress will succeed in passing a tax reform legislation. He is "determined" to get it done.
Under the GOP's unified tax reform framework, the corporate tax rate will decline to 20% from 35%. The tax rate for small businesses will drop 15% to 25%.
According to the senator, "We want to make American Business competitive again." He emphasized that other countries around the world have tax systems that are more competitive. "We are left behind. It's time we catch up."
Furthermore, Toomey said people are reacting too early about the tax reform. He made the statement in response to those who oppose the tax cuts, which they believe are good for the wealthy.
Sen. Toomey said, "It's not even possible for anyone to come to a conclusion yet about what's going to happen. I know what our intent is and I feel really good about our intent. I feel really good about how we're going to get there."