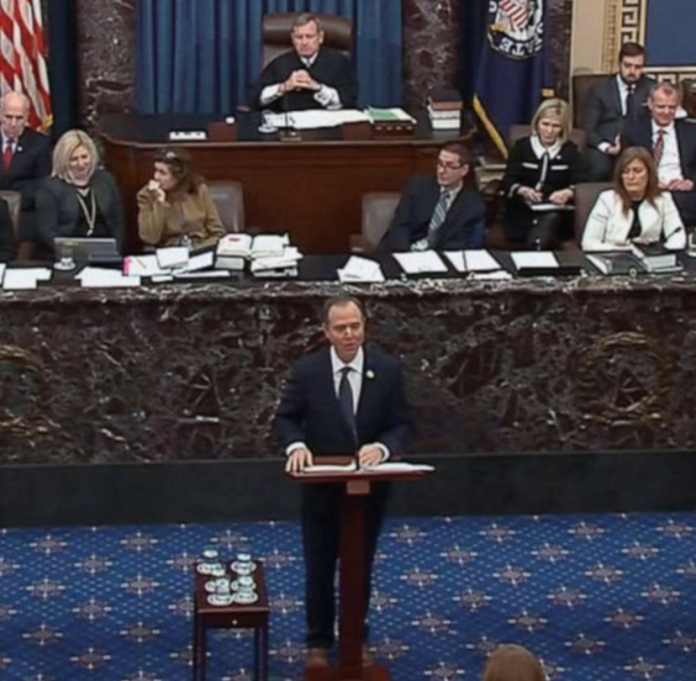 On this Thursday, the Senate impeachment trial remains ongoing.
The trial comes after weeks of House Speaker Nancy Pelosi sitting on impeachment articles. Pelosi did this with the hopes of bargaining with the Senate and gaining leverage over how they'd agree to hold a trial; in the end, however, the Speaker handed over the papers with zero deals or concessions from the Senate whatsoever.
At this time, the upper chamber of Congress is focusing on the impeachment article which alleges abuse of power.
What's Happening Now?
Moments ago, Rep. Jerry Nadler professed that the first article of impeachment charges Trump with "high crimes and misdemeanors." Nadler maintains that the president engaged in "abuse of power, betrayal of the nation, and corruption in elections." The House representative continued, stating for these reasons, President Trump must face removal from office.
Rep. Jerry Nadler: "Article 1 thus charges a high crime and misdemeanor that blends abuse of power, betrayal of the nation, and corruption in elections into a single unforgivable scheme. That is why this president must be removed from office." https://t.co/SBvvSkXUHQ pic.twitter.com/sF95V2tHo2

— ABC News (@ABC) January 23, 2020
These are common talking points which Democrats have stood by since the inception of impeachment proceedings. Leftist lawmakers continue to assert that the president asked Ukraine to investigate 2020 Democrat Joe Biden whilst threatening to withhold aid from the foreign government. President Trump says this isn't so, as does Ukraine leader Zelensky.
Republican senators, however, have a contrasting outlook from Nadler's. Since the inception of impeachment proceedings, GOP lawmakers have opposed them; this opposition has only mounted with the passing of time.
Shortly after Nadler's remarks, Sen. Lindsey Graham shared some thoughts of his own. Graham challenged the left-wing narrative that Biden doesn't have any questionable ties to the government of Ukraine.
In Graham's own words:
"I know a lot about the Trump family and their dealings in Russia. I don't know anything about the Biden connection to Ukraine. So when the managers tell me this has been looked at and debunked, by who?"
Final Remarks from Nadler
Nadler concluded his commentary by asserting that Trump is a danger to the nation. By his own admission, Nadler believes the president has "made clear in word and deed" that he is "a continuing threat to our nations."
—
Today's impeachment proceedings are far from over. Both Republicans and Democrats alike remain fired up and eager to prove their cases.
Meanwhile, President Trump has weighed in with his thoughts about the trial via Twitter.
The Democrats don't want a Witness Trade because Shifty Schiff, the Biden's, the fake Whistleblower(& his lawyer), the second Whistleblower (who vanished after I released the Transcripts), the so-called "informer", & many other Democrat disasters, would be a BIG problem for them!

— Donald J. Trump (@realDonaldTrump) January 23, 2020