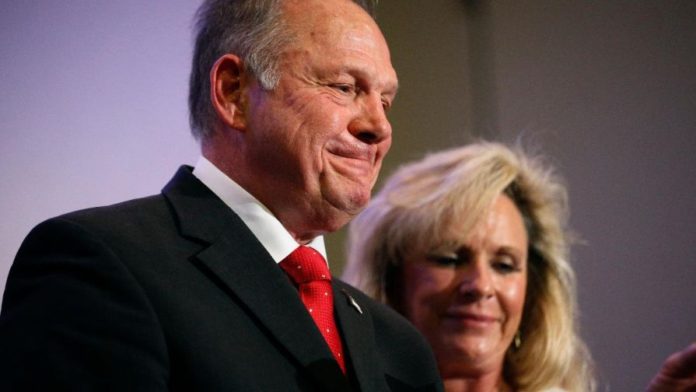 Alabama's special election for Jeff Sessions' seat is only three weeks away. Serious allegations of sexual harassment continue to plague his campaign. Meanwhile, a second woman has come forward accusing Democratic Senator Al Franken of inappropriate sexual behavior.
The Moore Campaign Hunkers Down
Moore's campaign has no public appearances scheduled this week. They're likely hunkering down before the December 12th election. Moore's opponent, Democrat Doug Jones, has been on the offense. Jones has been massively outspending Moore and is working to increase minority turnout as much as possible. The Jones campaign wants to distract from Moore's accusations as little as possible.
Moore's supporters have continued to hold events for the candidate, despite the firestorm of accusations. Nevertheless, even some of the most conservative media outlets in Alabama have come out against Moore. Over the weekend, Alabama Media Group newspapers wrote that the state's voters should "stand for decency" and "reject" Moore.
The White House continues to keep its distance from Moore. Kellyanne Conway told Fox News that although the White House has no intention to weigh in, "we want the votes in the Senate to get this tax bill through."
Accusation Details Emerge 
Leigh Corfman has bee Moore's most public accuser of sexual harassment. Corfman recently described on the NBC's Today Show how Moore undressed her and touched her when she was 14. "It took years for me to regain a sense of confidence in myself. And I felt guilty. You know, I felt like I was the one that was to blame," Corfman said.
The Jones campaign has stayed away from addressing the issue constantly in public. Behind the scenes, however, Jones has spent thousands on TV ads showing Republican voters saying that can't support Moore. The ads lean heavily on a "Republicans for Jones" message.
Moore has been completely abandoned by the National Republican Committee. His campaign continues to try and raise money, mostly online. The Jones campaign, however, is out-raising and out-spending Moore. Jones has also kept the Democratic National Committee at a distance for fear of scaring away conservative voters.
If Moore loses, the damage to the GOP may be mitigated if Senator Al Franken has to resign due to his own sexual harassment allegations.