Two influential progressive groups demanded Senator Al Franken (D-Minnesota) to resign amid the sexual harassment allegations against him.
On Monday, CREDO and Indivisible called for Franken's resignation after a second woman accused the Minnesota senator of inappropriate behavior.
In a statement, CREDO said, "Sen. Al Franken had the chance last week to take full responsibility for past sexual harassment, sexual assault and any other behavior that demeaned women. He failed to do so."
In addition, CREDO stressed, "We believe that Sen. Franken should immediately resign from the U.S. Senate." The progressive group also suggested that "Gov. Mark Dayton should appoint a progressive woman to replace him."
On the other hand, Indivisible posted on Twitter its position regarding the accusations against Franken. The group stated, "We believe Lindsay Menz. We believe Leean Tweeden. Senator @alfranken should be held accountable and he should resign."
Second woman said Sen. Franken made her feeling "gross"
Today, CNN reported that Menz claimed that the Minnesota senator "grabbed" her bottom seven years ago. The misconduct happened when they posed for a picture at the Minnesota State Fair in 2010.
According to Menz, Sen. Franken pulled her "really close, like awkward close" and "he put his hand full-fledged in my rear."  She added that the senator's hand was "wrapped tightly around my butt cheek." Menz said the interaction left her feeling "gross."
Menz reached out to CNN and told her story on Thursday hours after Tweeden publicly accused Franken of sexual harassment. Tweeden alleged that the Minnesota senator kissed and groped her in December 2006. The sexual misconduct occurred during the USO Tour to entertain troop in the Middle East.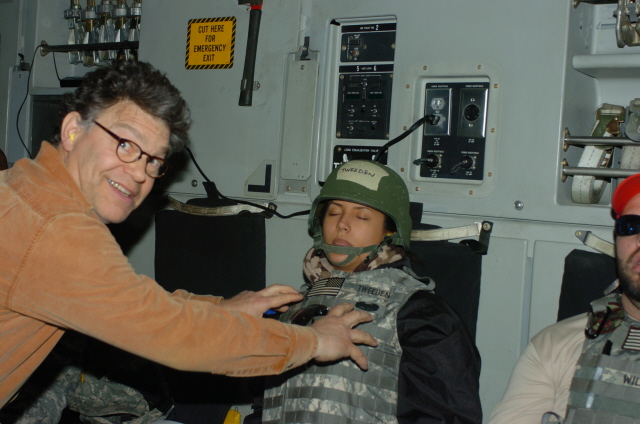 Sen. Franken apologized to his accusers
In a Facebook post last week, Sen. Franken apologized to Tweeden and to everyone who was part of the USO Tour. He said, "I respect women. I don't respect men who don't. And the fact that my own actions have given people a good reason to doubt that makes me feel ashamed."
Additionally, the senator emphasized that "there's no excuse" for his behavior and he felt "disgusted." His action "isn't funny" and "completely inappropriate." Furthermore, he requested an ethics investigation and he promised to cooperate.
On Sunday, Sen. Franken told CNN that he did not remember taking a picture with Menz. He also apologized to her. The senator said, "I take thousands of photos at the state fair surrounded by hundreds of people. I certainly don't remember taking this picture. I feel badly that Ms. Menz came away from our interaction feeling disrespected."