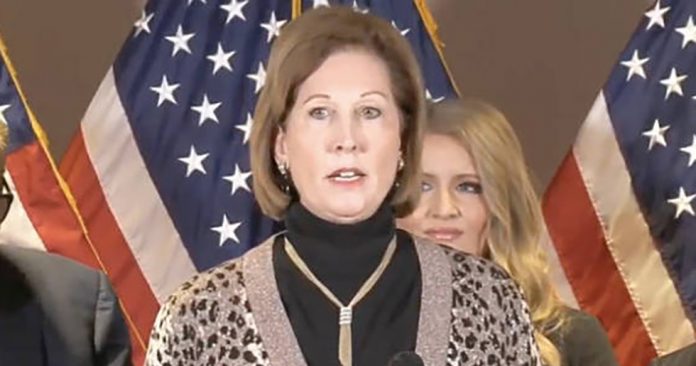 Attorney Sidney Powell, who formerly worked with President Donald Trump's campaign, filed on Wednesday legal documents challenging the election results in Georgia and Michigan.
Despite her dismissal as a conspiracy theorist, Powell published the legal documents on her website and branded them as "The Kraken." She published a 104-page document detailing alleged irregularities in Georgia and a 75-page document pressing Michigan election results.
Powell sought to decertify the poll results and declare President Trump as the real winner of the 2020 presidential race in the states.
Powell's move is seen to power the Trump campaign's efforts to reveal alleged voter fraud that Powell claims rigged President Trump of an election victory.
The lawsuits target election officers in the two battleground states and include other claims of supposed forged ballots and observers being unable to watch the vote count.
"The scheme and artifice to defraud was for the purpose of illegally and fraudulently manipulating the vote count to make certain the election of Joe Biden as President of the United States," the 104-page filing stated.
The lawsuit lamented that there is not enough remedy under the law and seeks to have the state's results of both the 2020 presidential and congressional elections set aside. Based on the results that were certified by Georgia on Friday, former Vice President Joe Biden beat President Trump by a razor-thin margin of 0.25 percent or 12,670 votes.
According to the document, the election software and hardware produced by Dominion Voting Systems Corp. was the platform where the "massive fraud started." It added that the features of the system's software do not allow for a simple audit of misallocation, redistribution, and erasure of votes.
According to the filing, there is "incontrovertible physical evidence" that security systems were breached, which is a clear violation of state and federal laws.
Trump has yet to concede to Biden, who has been projected as the winner of the election three weeks ago.
Trump has mounted multiple legal battles in multiple states and pursued recounts in a couple of them, where he believes he still has a chance to win.
—————————————-