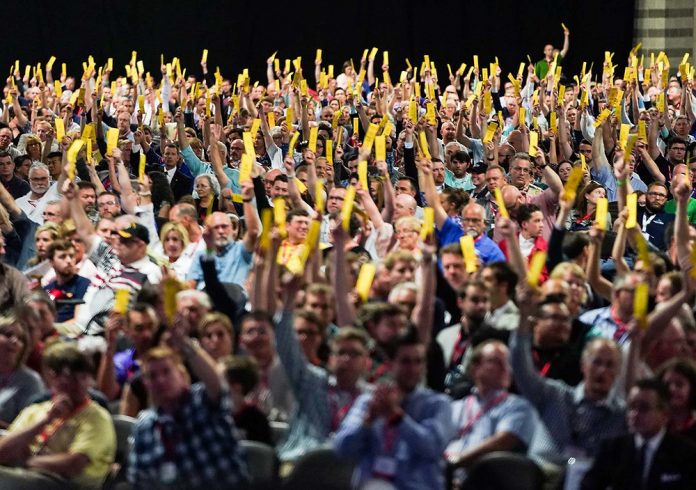 The Southern Baptist Executive Committee may have been involved in efforts to cover-up sexual abuse allegations for over 20 years. And according to a just-released report, the committee was more concerned with avoiding liability than about the abuse victims.
The report issued May 22nd by Guideposts Solutions Investigations was commissioned by the SBC Sexual Abuse Task Force (SATF). And gave details of a seven-month investigation.
The lengthy report "named-names" of potential abusers and executive staff involved in elaborate campaigns to escape any SBC liability. And described some specific allegations, as well as the responses of key Southern Baptist leaders between Jan. 1, 2000, through June 14, 2021.
The Allegations
The report claimed that:
"For almost two decades, survivors of abuse and other concerned Southern Baptists have been contacting the Southern Baptist Convention ("SBC") Executive Committee ("EC") to report child molesters and other abusers who were in the pulpit or employed as church staff. They made phone calls, mailed letters, sent emails, appeared at SBC and EC meetings, held rallies, and contacted the press…only to be met, time and time again, with resistance, stonewalling, and even outright hostility from some within the EC. "
Investigators found that there were "credible" allegations that the respected evangelical leader, Reverend Johnny Hunt, allegedly assaulted another pastor's wife in 2010. Georgia-based Hunt was a former president of the powerful Southern Baptist Convention.
The Rev. Derrick Jackson, executive pastor of administration at First Baptist Church Woodstock, said the church was unaware of the allegations against Hunt, who served as pastor there until December 2019. The mega-church has 10,000 members.
Hunt served as president from June 2008 through June 2010. And he posted on Twitter that his "heart breaks for all victims of abuse" and "vigorously" denied allegations that he was an abuser.
 Paul Pressler, a Texas judge, and former SBC vice president is currently the defendant in a lawsuit. He allegedly sexually abused the male plaintiff starting at the age of 14-years-old.
Two other men gave affidavits accusing Pressler of similar sexual misconduct. 
Other specific allegations appeared in the report implicating staff of at least 10 SBC churches.
Cover-up of sexual abuse
The release of the 288-page report was timed to coincide with the 2022 SBC Annual Meeting & Pastor's Conference scheduled for June 12-15 in Anaheim, California.
August "Augie" Boto who served as Executive Committee vice-president, and later President along with other staff members "main concern was avoiding any potential liability for the SBC," according to the report.
 Roger "Sing" Oldham who served as  Executive Committee vice president for convention communications and relations 2007-2019 said he was sending regular updates for "the past decade" to Boto. His reports included news articles of Baptist ministers arrested for sexual abuse. And by mid- 2018, the list contained the names of 585 possible abusers.
Recommendations
Attorneys Guenther, Jordan & Price served as legal counsel for the SBC Executive Committee. Partner in the firm, Jim Guenther announced the end of its 56-year representation on Oct. 11, 2021. They resigned after the Committee voted to waive attorney-client privilege for purposes of the Guidepost investigation.
Specifically, the statement disagreed "with many of the characterizations in the report and its assignment of ill will and bad motives to men and women of the Executive Committee who struggled year after year with complex issues," as well as "the lack of understanding the report shows for the role and responsibility of legal counsel."
The denomination has a large spiritual and cultural footprint. Nationwide, Southern Baptist represents the biggest Protestant denomination with 14 million members.
There had been a cover-up of sexual abuse within its churches for decades.
And although the report is "damning and disturbing" it is an effort of the SBC to do things differently and to bring to light "past sins."
Among the recommendations in the report to correct the situation:
"Establish an independent commission responsible for implementing and overseeing reforms. The commission would be in place for a minimum of 10 years.

Creation of a Resource Toolbox, which could include a variety of resources – protocols, training, and education – associated with the prevention and management of sexual abuse.

Create and maintain an Offender Information System to alert the community to known offenders."