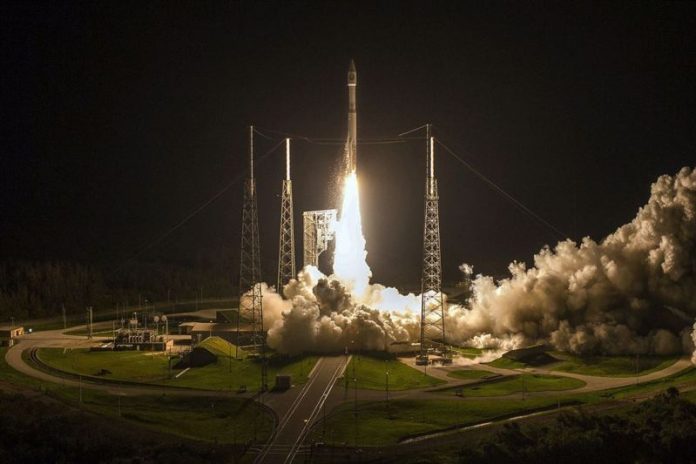 Space Exploration Technologies Corp (SpaceX) and the United Launch Alliance (ULA) will have another busy week for upcoming launch missions at Cape Canaveral in Florida. 
SpaceX and ULA scheduled three liftoffs unless there are more delays.
ULA to launch NROL-44UL
ULA is set to launch its NROL-44UL satellite from the Cape Canaveral's Launch Complex 37B in the middle of the night on Tuesday. It was initially scheduled to liftoff on August 29, but the spacecraft manufacturer and operator called it off.
The Delta 1V Heavy, a powerful rocket with three engines attempted to launch the NROLL-44 twice but failed due to hardware issues. ULA found that of the ground system controllers of the rocket's engine has a problem. The rocket has 3 main engines programmed to ignite in sequence. The starboard engine fired, as it was supposed to, but the regulator for the center engine failed to open.  
The NROL-44 is a classified satellite for the National Reconnaissance Office (NRO). This will be the fourth attempt to get the US spy satellite off the ground.
ULA first scheduled for a launch on Sunday morning, September 27 but decided to delay it. ULA tweeted on Sunday that it was "taking extra precautions to ensure all issues" with the retraction system had been fixed.
ULA  re-scheduled the launch for 12:02 a.m.Tuesday. There will be a live webcast of the launch on the ULA site. 
Delta IV Heavy is a massive and powerful rocket
Delta IV Heavy is 330-foot-tall (100 meters). The rocket is encased by the Mobile Service Tower (MST), which rolls away before launch. The launcher has three hydrogen-fueled first-stage common core boosters that are strapped together.
This is ULA's most powerful rocket. It is fueled by 465,000 gallons (1.76 million liters) of super-chilled liquid hydrogen and liquid oxygen. The mega launcher generates over 2 million pounds of thrust.
This should mark the 12th flight of a Delta IV Heavy rocket, which first flew in 2004. 
There are only five Delta IV Heavy rockets left. ULA plans to retire Delta IV Heavy before rolling out its next-gen rocket, the Vulcan Centaur. ULA retired the Delta II rocket in 2018 and it's Delta IV Medium in 2019.  
SpaceX to launch Falcon 9 carrying Starlink satellites
SpaceX plans to send up another batch of the company's Starlink satellites on Monday. A Falcon 9 rocket loaded with 60 of the 570-pound satellites is scheduled to launch from the Kennedy Space Center at 10:22 a.m.
It's one of many Starlink missions SpaceX launched since May when the program started. The goal is to create a constellation of satellites orbiting the Earth that can provide seamless and affordable internet to every part of the globe.
This is the 13th Starlink launch, bringing the number of the company's satellites orbiting the Earth to 775. SpaceX CEO Elon Musk's immediate goal is to deploy 1,584 satellites.
SpaceX founder Elon Musk has been planning to have 1,500 satellites in place by the end of 2020. This is estimated to be enough Starlinks to provide coverage for all of North America. If launches continue at this rate, he hopes to have global coverage by the end of 2021.
Watch the launch live here.
SpaceX sending GPS to Space Force
ULA's delays are thought to be affecting SpaceX's second upcoming flight. On Tuesday SpaceX is sending another Falcon 9 up with an updated Global Positioning System (GPS) satellite for the Space Force. The GPS III SV-04 was built by Lockheed Martin to help the U.S. to closely track locations of everything in space.
The mission is still on the Space Force's calendar for Tuesday 9:55 p.m. Though it could shift based on whether Delta IV Heavy launches, as scheduled. The SpaceX mission will launch from the Cape's Launch Complex 40.
Watch the launches here.
—————————————-
Have a story you want USA Herald to cover? Submit a tip here and if we think it's newsworthy, we'll follow up on it.
Want to contribute a story? We also accept article submissions — check out our writer's guidelines here.