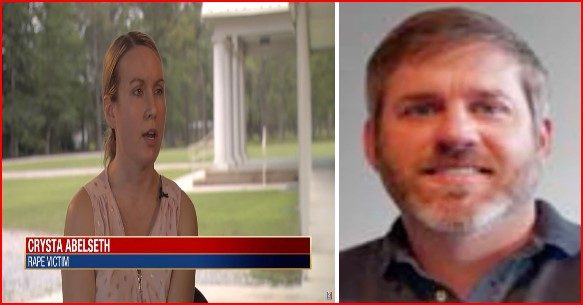 In Tangipahoa Parish, Louisiana, Crysta Abelseth was ordered to turn over custody of her teenage daughter. And to pay her accused rapist child support.
The story was first reported by WBRZ, a Baton Rouge television station. 
Abelseth was 16 years old when she met then 30-year-old John Barnes. She was at a bar with 2 friends in Hammond in 2005.
Abelseth told an interviewer that Barnes promised to give her a ride home from a local restaurant after a night out with 2 friends.
Instead, he took her to his house. And raped her on his living room couch. 
The next morning, she woke up naked on the bathroom floor.
Abelseth became pregnant. But she did not report the rape to the police at the time. "Everyone assumed it (the pregnancy) was from a boyfriend, and I let them believe that," Abelseth told the TV station.
The teen had a daughter, who is now about the same age as Abelseth was when she got pregnant.
"When my daughter was five years old, he found out about her, and once he found out about her, he pursued custody and wanted to take her away from me," Abelseth told WBRZ. "They granted him 50-50 custody although [the child] was caused by rape."
When Barnes found out about the child he was quickly granted 50/50 custody. In an unusual move, the court did not order him to pay the 5 years of back child support. 
 According to court records, a DNA test shows that Barnes is the father. 
The police fail to investigate
John Barnes is the owner of Gumbeaux Digital Branding, a web company in Ponchatoula.  His firm has a contract with the local police department. His website showed them as a client, but that information was removed after the story was reported.
According to Abelseth, Barnes has told her repeatedly that he is "connected" and has friends in the justice system. 
In 2015, Abelseth discovered that the crime was still within Louisiana's statute of limitations. So, she filed charges against Barnes for the rape.
In her report, she detailed the assault. And also claimed that Barnes threatened if she ever pressed charges, he would take the child away completely. And that he had been stalking and harassing her.
"He's threatened me multiple times, saying he has connections in the justice system, so I better be careful, and he can take her away anytime he wants to. I didn't believe him until it happened."
The Tangipahoa Parish Sheriff's Office never acted on the complaint.
"It was never assigned to a detective, and nothing was ever investigated," Abelseth said.
Barnes has admitted he's the biological father of the child. Mysteriously those court records are now under seal and cannot be seen by the public.
'It's a lie. She was in a bar with a fake ID, telling everyone she was a college student. 
'I had no idea she was 16, and I didn't rape her. That is absolutely, unequivocally false,' he says. 
Louisiana has statutory rape laws which apply if the victim is under 17, regardless of whether or not they physically consented. 
Barnes claims that he only found out about the child when she was 5 years old. And although this may be true, there is no record that he paid the back child support that is standard in most cases.
Ordered to pay rapist child support
In April 2021 the teenager accused her father of hitting her in the face when fighting over her cell phone. He denies he ever hit her.
Abelseth filed a report at the Sheriff's Office, but they concluded there were 'no marks or signs of distress'.
On February 25, Abelseth in court documents alleged Barnes may have been sexually abusing their daughter.
'Minor child contacted me (her mother) on February 23, 2022, with the suspicion that her father had drugged and sexually assaulted her two nights in a row,' the court documents state.
Abelseth stated that the Children's Hospital of New Orleans confirmed 'evidence of forced entry congruent with sexual assault'.
In the papers, she states: 'My daughter, minor child, was conceived as the product of the defendant raping me when I was a minor child of 16 years of age.
'I suspect drugs were used by him to sedate me as I was unable to move while he raped me.
'Now it is alleged that he has committed the same heinous crime on our 15-year-old daughter.'
On March 18, the allegations were dismissed by the court, which found that 'medical evidence does not support allegations in petition'. 
Two days later, Abelseth lost custody of her daughter. And has been forced to pay Barnes child support.
She says Barnes is also blocking their court-mandated daily phone calls.
Asked if her daughter is okay, Abelseth replied: 'I don't know.'
Barnes is claiming he is trying to keep the teenager from having sex with her boyfriend. And that when she had a phone she was 'sexting' her boyfriend and posting sexually explicit TikToks.
Barnes now has full custody. And Abelseth it ordered to pay her rapist child support.
If there had been an investigation
This is a case where the age of the victim and the age of the child are not in dispute.  Even without the "lost" report police should have investigated the crime. 
Stacie Triche is Abelseth's advocate and founder of the nonprofit Save Lives Foundation. She believes it is all about local politics.
She said, "You have birth certificates. You have DNA evidence. All the facts are there, so this mother should have never had to go through this mud that she's been going through for the past 10 years with this legal battle back and forth because he should have never been given any rights to the child at all."
In an interview this week, he said he thought Abelseth was an adult when they met because she was in a bar using a fake ID. 
'It's a lie. She was in a bar with a fake ID, telling everyone she was a college student.