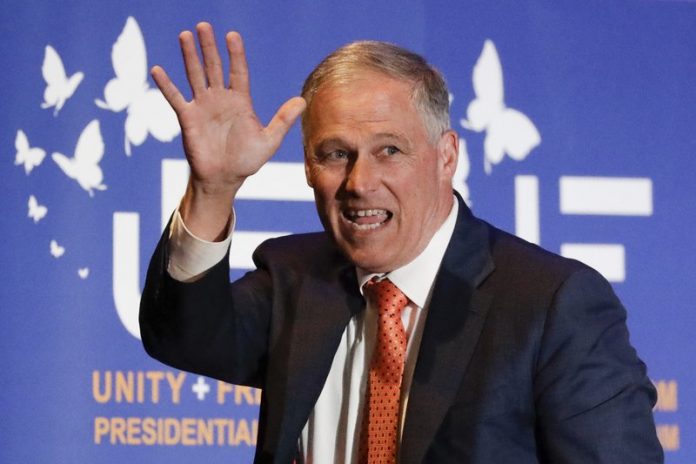 On Saturday, Washington Gov. Jay Inslee declared a state of emergency for the state following the first death from novel coronavirus 2019 (COVID-19). Since then, the number of confirmed cases in Washington state has risen to 27 and there have been 9 deaths. There have also been cases reported in California and Oregon.
According to The Hill, the declaration by Inslee directs state agencies to use all resources necessary to prepare for and respond to an outbreak and allows the use of the Washington National Guard if necessary.
Declaring a state of emergency speeds up the process of allocating resources to affected communities. It places no restrictions on the activities of civilians unless otherwise stated. In this case, it allowed King County to purchase a motel to isolate patients during treatment and recovery.
At this point, Inslee says the priority is to slow the spread of COVID-19 and prepare for the possibility of a world-wide pandemic. A pandemic is the spread of a disease world-wide as opposed to an outbreak (epidemic). While there has been a sudden increase in the number of reported cases of COVID-19, it does not yet meet the World Health Organization (WHO) criteria for a pandemic.
Measures such as a 14-day quarantine for anyone traveling from Hubei Province or any other area in China have also been instated nation-wide. Quarantines are used to separate individuals who may have been exposed to the virus and prevent the spread of COVID-19. Health officials monitor quarantined individuals so they can be tested and treated if symptoms appear.
Self-quarantines are also being implemented for those individuals who may have been exposed to the virus but have no symptoms. Under self-quarantine, individuals do not go to work, school or other public places where they risk infecting others. This lasts 14 days from the last date of suspected exposure. Self-quarantined individuals are directed by public health departments on how to monitor their own health, so they can be quickly isolated should they develop symptoms. If individuals develop symptoms, they are then isolated to prevent the spread of the virus to others.
Health and Human Services Secretary Alex M. Azar II declared a public health emergency (PHE) for the U.S. at the end of January. Declaring a PHE gives the Department of Health and Human Services the ability to temporarily reassign certain personnel to respond to the spread of COVID-19 and help states where they're needed.
In a press release, Secretary Azar was quoted as saying, "While this virus poses a serious public health threat, the risk to the American public remains low at this time, and we are working to keep this risk low. We are committed to protecting the health and safety of all Americans, and this public health emergency declaration is the latest in the series of steps the Trump Administration has taken to protect our country."
There are 91,783 confirmed cases and 3,123 deaths at this reporting, according to the WHO. WHO advises staying informed and following all local health agency guidance.