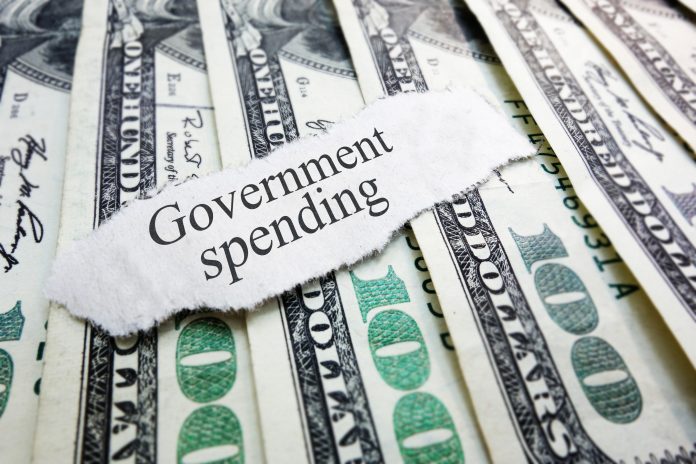 The state spending across the country is expected to grow at the lowest rate since the Great Recession.
For the fiscal 2018, the projected total general fund spending is $830.2 billion, up 2.3%. It is lowest growth rate since fiscal 2010, according to a study released by the National Association of State Budget Offices (NASBO).
Over the past several years, states recorded moderate spending growth. The uncertainty in federal policy and unpredictable revenues prompted states to slow down on spending.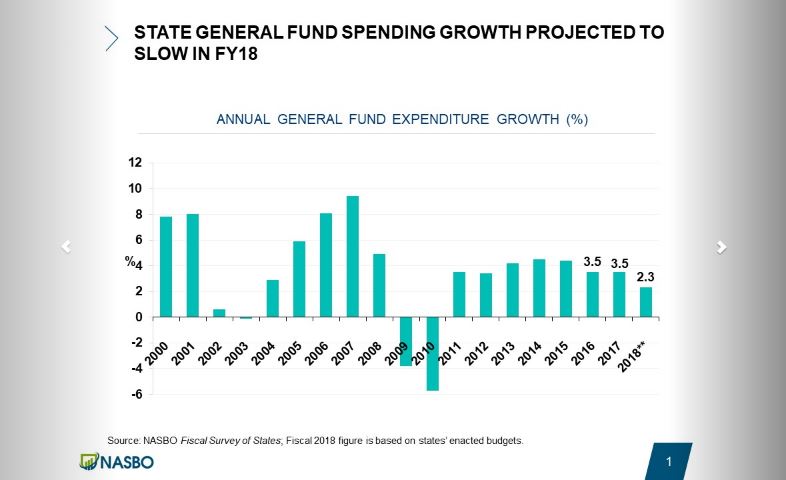 States focus spending on education and Medicaid
Most states focused their spending on K-12 education. It is the largest single portion of the state general fund spending. The study showed that 38 states increased spending on education while 10 states made cuts. The net increase in education spending is $8.6 billion this year.
Aside from education, states also decided to spend more on Medicaid. The states collective spending for the program is $2.6 billion higher from their general funds this year. According to NASBO, the amount is $5 million more if Ohio's Medicaid spending included. Ohio's spending for the program comes from special funds.
States approved cautious budgets for fiscal 2018
Based on the study, 26 states approved general spending increases below 2% while 15 states reduced spending next year.
In addition, states passed modest increases in appropriations totaling $27.8 billion across all program areas for fiscal 2018. Last year, the states' total appropriations were $25.8 billion.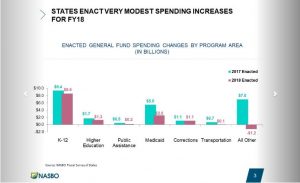 In fiscal 2017, states recorded a 2.3% growth in general funds revenues. The collections coming in are below original budget projections in 27 states.  Twenty-two states decided to cut their mid-year budget totaling $3.5 billion.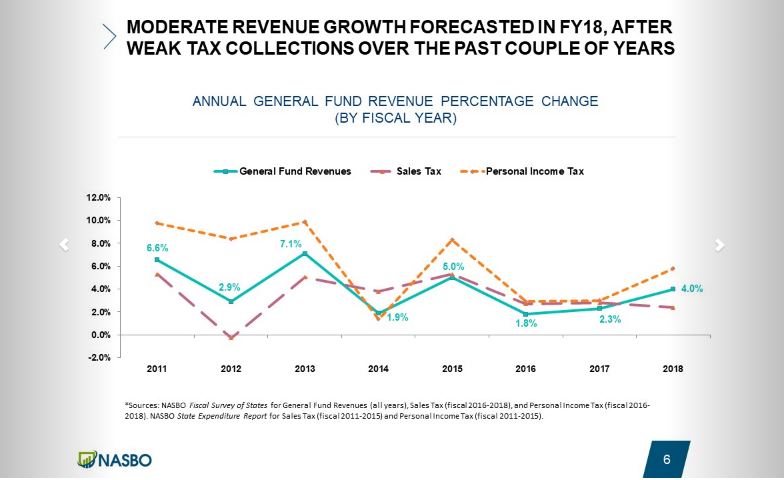 For the fiscal 2018, the projected total general fund revenues is 4% based on the states' approved budgets. The average growth rate is 3.2%.
Furthermore, states enacted tax and fee changes, which resulted to additional revenues of $9.9 billion.
The study found that states continue to strengthen their reserves despite slow revenue growth. Twenty-five states are projecting increases in rainy day fund balances next year.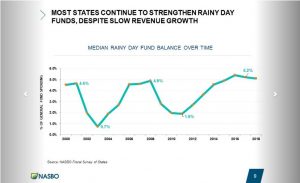 States have plenty of reasons to be cautious in spending
Michael Cohen, the director of California Department of Finance, commented, "There are plenty of reasons for caution at this point. We've not been willing to overcommit to ongoing spending."
Take note that for the first time in five years, the states' collective budget for revenue growth is higher that spending growth next year. Their action highlights "caution" as stated by Cohen.
According to NASBO Executive Director John Hicks, states are "catching up" to achieve their budget by increasing revenues as many states implemented one-time fixes to balance previous budgets.