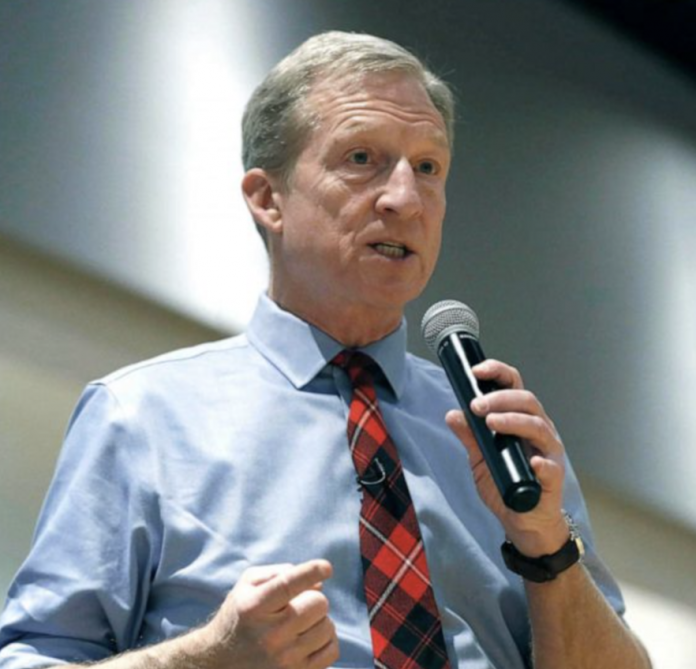 As the 2020 presidential election plays out, Democrat candidates are eager to develop strategies for taking on President Trump. Thus far, accusations of racism and claims that Trump has no regard for certain demographics have served as the most blatant tactics of most left-wing contenders.
However, leftist candidate Tom Steyer is employing the aforementioned strategies along with another one: going after the president on the economy. Unlike data, political pundits, etc., Steyer maintains that the economy is not Trump's strong suit in this election.
When the former hedge fund manager spoke with Face The Nation over the weekend, he branded Trump as a "terrible economic president" amongst other things.
What Steyer Really Thinks About the Trump Economy
The 2020 Democrat repeatedly cites his prior hedge fund management experience as grounds for him to weigh in on the economy. Since Trump's time in office, millions of new jobs have come into inception; meanwhile, unemployment numbers have reached record lows across the board. Nevertheless, Steyer still maintains that the Trump economy has ultimately failed America.
In the former hedge fund manager's own words:
"He's running on the economy, but he's really running on a Mar-a-Lago economy. He's given big benefits to rich people and big corporations in the short run."
Steyer also made sure to opine that the president is "doing a very superficial short term juice" by supposedly only benefiting wealthy Americans. Finally, the 2020 Democrat wrapped up his thoughts on the economy under Trump with the following statement:
"He's avoiding the actual long term prosperity of Americans that is done by investing in the American people."
An Established Strategy
Steyer has consistently maintained that Democrats can only defeat Trump by censuring his work on the economy. This is a talking point that the 2020 candidate repeatedly brought up during the New Hampshire debate.
Like Steyer, other Democrats continuously assert that the president's overall work is only benefiting rich individuals and robust corporations. This talking point regularly comes up when Americans point out benefits associated with the Tax Cuts & Jobs Act and other conservative economic legislation.
Steyer's ongoing attacks on the Trump economy have not significantly boosted the former's campaign on a national level. To date, Steyer continues to poll beneath several candidates. He did not do especially well in the Iowa caucus or New Hampshire primary. As of now, data from Nevada polls show Sanders in the lead with Steyer nowhere near second or third place.