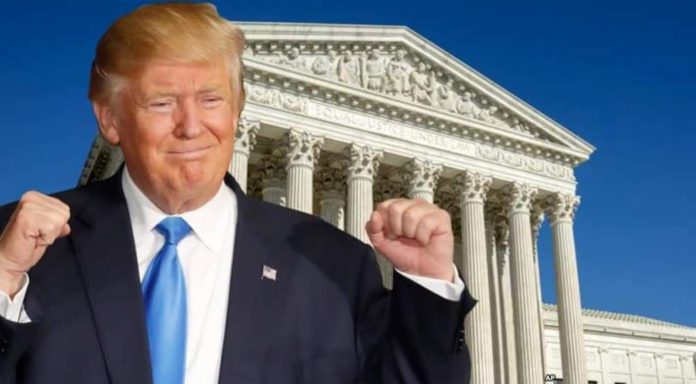 The Supreme Court brought an end to the Emolument Clauses lawsuits against former President Donald Trump. The lawsuits alleged that the former president may have violated the Constitution by illegally profiting from foreign governments during his presidency.
The anti-corruption lawsuits became moot when the Pres. Trump left office, according to the nation's highest court.
On Monday, the Supreme Court instructed the lower courts to wipe previous lower court opinions against former Pres. Trump because he is now a civilian.
The justices additionally threw out Trump's challenge to lower court rulings that had allowed lawsuits to go forward. The order was issued without comment or dissent.
The District Court of Columbia and Maryland sued the 45th president for allegedly violating the country's first anti-corruption laws, the Constitution's Foreign and Domestic Emoluments Clauses.
Several members of the hospitality industry, particularly the operators of high-end restaurants and hotels in New York and Washington, D.C. also sued Pres. Trump for the same reason. They claimed that they have been placed at a competitive disadvantage.
"The Supreme Court's procedural order not only wipes away two lower court rulings, but it also orders dismissal of the entire dispute — leaving for some other time resolution of the many questions Trump's conduct raised about the Emoluments Clause,"  according to Steve Vladeck, a CNN Supreme Court analyst.
The group Citizens for Responsibility and Ethics in Washington, which had a part in the cases against Trump, said on Monday that the lawsuits "made the American people aware for four years of the pervasive corruption that came from a president maintaining a global business and taking benefits and payments from foreign and domestic governments."
In a statement, Noah Bookbinder, the group's executive director, said, "Only Trump losing the presidency and leaving office ended these corrupt constitutional violations stopped these groundbreaking lawsuits."
Separately, in a joint statement, DC Attorney General Karl Racine and Maryland Attorney General Brian Frosh said their case "will serve as precedent that will help stop anyone else from using the presidency or other federal office for personal financial gain the way that President Trump has over the past four years."
In court documents, lawyers for Trump's Department of Justice argued that the case brought by Maryland and DC "fundamentally erred in permitting this unprecedented and extraordinary lawsuit to proceed" and called the alleged injury "attenuated and speculative."
Have a story you want USA Herald to cover? Submit a tip here and if we think it's newsworthy, we'll follow up on it.
Want to contribute a story? We also accept article submissions — check out our writer's guidelines here.