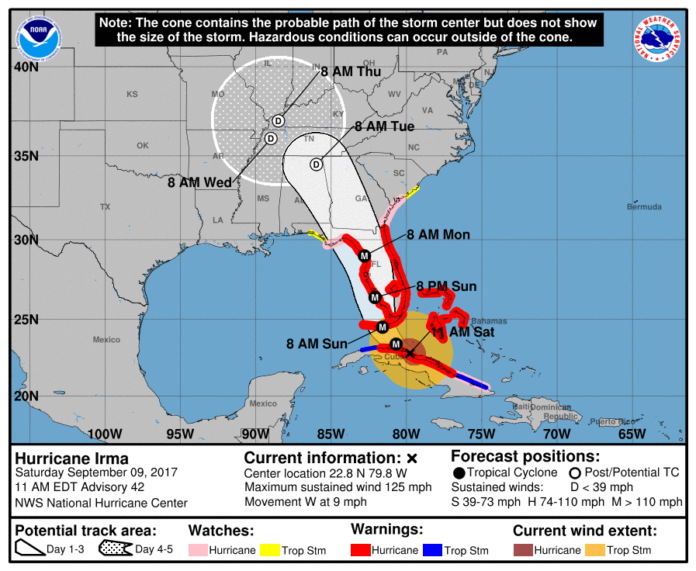 As of 8 a.m. Saturday morning, Irma is a Category 4 hurricane with maximum sustained winds of 130 mph. It is about 225 miles from Miami, moving west-northwest at close to 15 mph.
Two days ago, it was expected that Hurricane Irma would be an episode for the Miami coastline. Now, the story has changed. Hurricane Irma drifted further to the West than the experts anticipated. Now, it is expected to make landfall on Key West, FL and travel up the west coast of the peninsula.
The greatest danger is not expected to be rain or epic winds, but storm surge.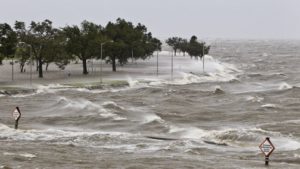 Storm surge is a phenomenon that occurs when a hurricane's winds physically moves the ocean water beneath it and low pressure pulls it up. The result is a drastic rise in sea level that decimates the coastline.
Thanks to Irma, the Tampa Bay area is on high alert. Any storm surge above 5 ft. would already have huge effects on the surrounding neighborhoods. Homes on the water would be easy targets.
Irma's storm surge is expected to be up to 13 ft.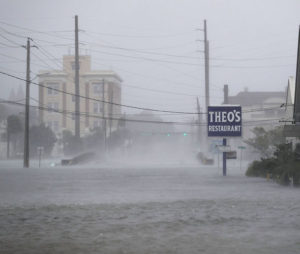 That puts a number of zones in Bradenton, Fort Myers, Naples, Marco Island, Clearwater, and Palm Harbor under water.
The best hope for gulf-coasters is for Irma to pull up sooner rather than later. That would result in the brunt of the storm hitting the everglades before weakening over land. The Everglades can absorb much of the storm surge and partially break up the storm before it affects any major population hubs.
The worst-case scenario is, unfortunately, more likely. When it pulls up, the eye and its powerful wall will pass over Naples and push all the water into Tampa Bay. To make matters worse, the timing of the storm will have it approaching the Tampa area close high tide.
After the storm, recovery efforts are expected to be as effective as possible. However, that will still leave many without power excluding the effects of a devastating storm surge.
Florida Gov. Rick Scott said that roughly 25,000 power outages were reported as of early Saturday morning. FEMA echoes the Governor's report, adding that Floridians could expect "days" without power. Florida Power & Light expects Irma to leave up to 9 million Floridians without power.
All of that will be made worse if Tamba Bay experiences a water level increase of 13 ft. Unlike Harvey, the waters will recede soon after the storm is gone, but it will still leave lasting damage in its wake. Hurricane force winds are also expected to be strong enough to break windows. Any debris the storm creates will end up being carried by the water, creating perilous conditions.
Even though Tampa will face the worst of this storm, hurricane-force winds will affect the entire Florida peninsula. It could also cause major damage to cities like Panama City, which is right on the coast, and Tallahassee, which faced a Category 1 storm last year and did not fully recover for several weeks.
The last time a storm could be felt across the whole state so drastically was Hurricane Cleo in 1964.