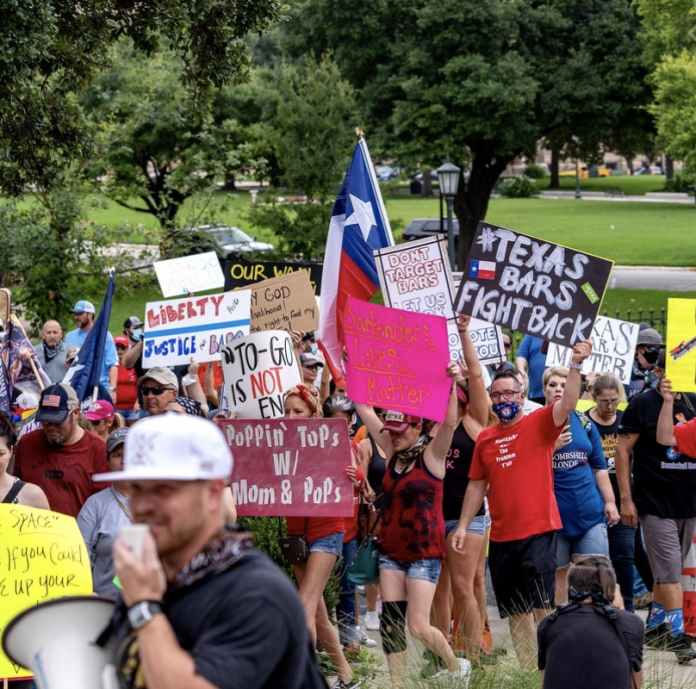 With each passing day, new demonstrations against coronavirus lockdowns and restrictions arise.
As states revert back into various forms of lockdowns, many people are not eager to quietly go along with it. Countless businesses that suffered adverse impacts from the first lockdown are now reeling as elected officials order certain places to suspend operations yet again.
In Texas, numerous state residents are pushing back against Gov. Greg Abbott's orders requiring mandatory masks and the closure of bars. This is why Texans hosted a Texas Bars Fight Back Rally earlier this week.
During this time, Texans gathered and danced with one another at a nightclub close to Houston.
A closer look at pushback against Abbott's restrictions
Like many other Americans in different parts of the country, Texans are tiring of government mandates dictating how they live their lives. This is why state residents spent time at Chuters Dance Hall & Saloon on Sunday night.
While gathering with one another and dancing, many participants did not social distance or wear face masks. Similarly to bar closures, mandatory masking is another of Abbott's ordinances that aren't going too well.
Eight sheriffs across the state maintain that they won't uphold mandatory masking; likewise, multiple Texas Republican groups have censured Abbott for mandating masks and ordering certain businesses to shut their doors.
Everyday Texans are also pointing out that shutting down bars is hurting both the owners and employees of these establishments. Chris Bergeron, a co-owner of Chuters Dance Hall & Saloon, shared the following remarks about government-mandated lockdowns:
"It doesn't make no sense whatsoever. It's totally discrimination is all it is. I'm not sure why they are picking on us. I don't know what [the] reasons are, but it's wrong. It's completely wrong. It's totally against our constitutional right." 
Growing resistance across the nation
Texas residents are not the only Americans fighting back against what they view as tyrannical government overreach.
Sheriffs in Michigan, Ohio, and additional states have announced their refusals to uphold mandatory mask ordinances. Meanwhile, several Florida localities are facing lawsuits as a result of their own mandates for residents to wear face coverings.
————————————————–
Have a story you want USA Herald to cover? Submit a tip here and if we think it's newsworthy, we'll follow up on it.
Want guaranteed coverage? We also offer contract journalism here.  Just be sure you're comfortable giving up editorial control, because our journalists are dogged and will follow the story through to it's conclusion. The story will be published to our exacting standards, without regard for your preferred slant.
Want to contribute a story? We also accept article submissions — check out our writer's guidelines here.