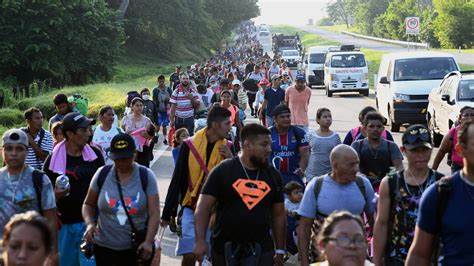 Buses chartered from Texas and Arizona are taking asylum-seekers to Washington, D.C., and now New York. Both Arizona and Florida are using the same tactics as Governor Abbott. And the mayors of New York and DC are not happy about the influx.
NY mayor's office blasts Abbott for bussing migrants to the city https://t.co/QOjIzI74eE pic.twitter.com/annWx1Sd6M

— The Hill (@thehill) August 7, 2022
Since April, Republican Texas Gov. Greg Abbott, has been busing newly arrived asylum-seekers to immigrant-friendly Democratic cities. Crime in DC is already at a record high and some of the newly arrived are adding to the mix. Human traffickers and drug gangs are taking advantage of the porous border situation.
The governor says that the Biden administration's open border policies are overwhelming Texas's social services. And the increasing numbers of migrants is already at record highs. 
Asylum-seekers find sanctuary 
Abbott's press office said the bus that arrived in Manhattan at the Port Authority Bus Terminal in Times Square early Friday was "the first group of migrants bused to New York City from Texas."
Many Democrat-run cities have named themselves as a "sanctuary city." And they claim that they will not cooperate with any Federal attempts to enforce the immigration laws. And want to be welcoming to whoever lands in their city.
Two weeks ago, Muriel Bowser, Washington DC's mayor, called in the National Guard. She claims that her city is experiencing its own border crisis. And it comes with an increase in homelessness and a large spike in crime.
With Abbott's announcement that buses were heading to New York, Mayor Eric Adams announced emergency measures to expand the shelter capacity in the city.
Adams and Washington Mayor Muriel Bowser say their cities have been overwhelmed by an influx of asylum-seekers. And that the homeless-shelter systems are filled to capacity. Now both cities are pleading with the federal government for help.
Homeless a growing problem
New York's Department of Homeless Services has declined to provide figures for how many of those arriving at shelters come from outside New York. There is already a rapid increase in the number of homeless, in both sanctuary cities, due to the rapidly deteriorating economy.
New York estimates that about 4,000 asylum-seekers have arrived in the city in the past few months. But the majority of buses from Texas and from Arizona, have gone to Washington, D.C. 
It is surmised that immigrants are potentially traveling from DC to New York on their own. And with the record number of border crossings some asylum-seekers are independently making their way to the city. And many of the immigrants believe it will be easier to find work in New York.
There is already a rapid increase in the number of homeless across the US due to the rapidly deteriorating economy. It is likely that both the sanctuary cities
Governors clash in social media
The governors are all fighting it out on social media.
The Adams administration denounced the bus trips as a stunt by Abbott. Abbott's "continued use of human beings as political pawns is disgusting," Fabien Levy, a spokesperson for Adams, wrote on Twitter. The city, Levy added, would continue "to welcome asylum-seekers" but needed federal support to do so.
Abbott says that like Washington, New York is "the ideal destination for these migrants, who can receive the abundance of city services and housing that Mayor Eric Adams has boasted about within the sanctuary city." 
"I hope he follows through on his promise of welcoming all migrants with open arms so that our overrun and overwhelmed border towns can find relief," the Texas governor claimed in a statement on Friday