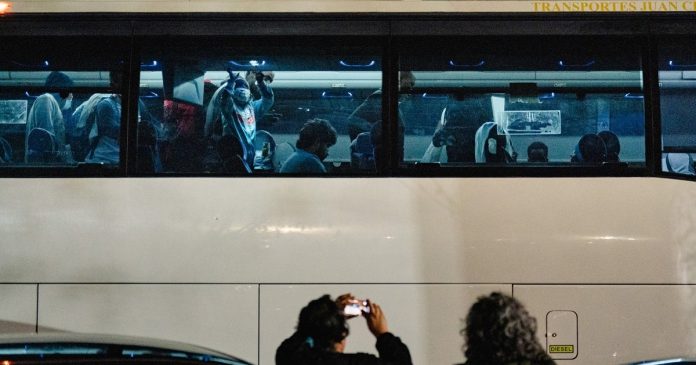 Muriel Bowser, Washington DC's mayor, has called for the National Guard to be activated. It appears that the city is experiencing its own border crisis.
Bowser claims that the estimated 4,800 migrants from the southern border have created a "humanitarian crisis." The homeless shelters are filled. Crime is surging. And her city is at a "tipping point". 
And the National Guard is required to aid in tracking undocumented migrants.
The spike in crime in some of Washington's most exclusive neighborhoods has not gone unnoticed. Migrants arriving from Texas and Arizona on buses in the district are involved in some of the crimes.
On Wednesday dozens of migrants were found in stash houses in an upscale section of the city. According to immigration officials, human smugglers had 73 migrants including 13 children hidden in six houses. And the area where they were found has a median home price is $750,000.
Immigration and Customs Enforcement (ICE) took custody of the undocumented people, but the National Guard will aid in processing the people.
 The officers also found $95,000 in cash. And some cocaine in the homes during the raid.
BREAKING: DC @MayorBowser requests @DCNationalGuard activated indefinitely to help migrant busses arriving in DC. Calling it a "humanitarian crisis" that has reached a "tipping point" with 4,000 migrants so far. Requesting DC Armory be used as processing center. @nbcwashington

— Mark Segraves (@SegravesNBC4) July 28, 2022
Southern border crisis in DC
Migrants arriving from Texas and Arizona on buses in the district are involved in some of the crimes. The bus trips were organized by the governors of southern border states. They claim that the Biden administration's border policies have created the crisis. 
Migration across the US-Mexico border has surged to record levels.
Officials in border states have grown wary of the federal government's hands-off attitude about the crisis.
Conservative Mercedes Schlapp who was the White House strategic communication director under Trump said, "Over one million illegal immigrants have been dumped on Texas and Arizona border towns since Joe Biden took office and it took an influx of less than 4,000 into Washington DC for @MayorBowser to call in the National Guard."
Jean-Pierre: "Republicans are using migrants as a political tool."

Doocy: "So the White House's preference would be for small towns in Texas and Arizona to take care of these migrants and not DC."

Jean-Pierre: "They are sending migrants to big cities as a political ploy." pic.twitter.com/JGXkkzn79a

— Greg Price (@greg_price11) July 28, 2022
ICE and the U.S. Customs and Border Protection (CBP) continue to be overwhelmed by the influx of undocumented people.
It has only gotten worse since the end of May when the Biden administration ended Title 42 enforcement. The Trump-era law was used to quickly return immigrants to their original homes, citing COVID-19 public-health concerns.
The Biden administration has nominal enforcement of border security. And has encouraged policies making it difficult to enforce existing laws.
The arrest in Washington comes weeks after 53 people died in the back of a sweltering truck in San Antonio, Texas. Two men have been indicted in what is the largest known number of deaths in human smuggling.
Reports are that migrants are sometimes being trafficked after they arrive in the US. And they are also at risk in the dangerous conditions on the way to the US. Along with the very real possibility of falling prey to human traffickers, many women and children report being raped on the journey.