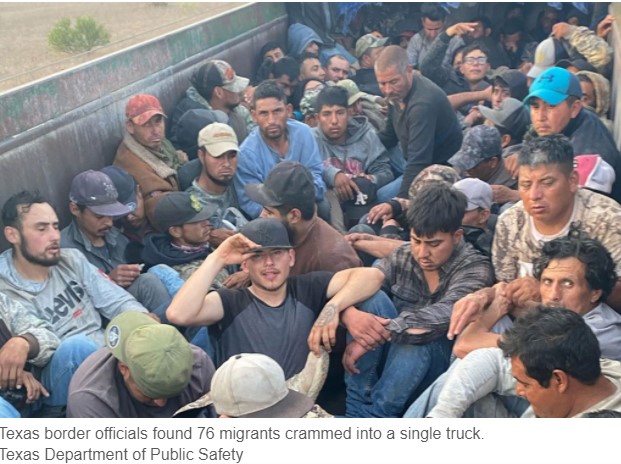 Fox News and the New York Post reported that a human smuggling operation was interrupted in Dimmit County, Texas on Thursday.
The Texas Department of Public Safety pulled over a truck in the rural county. The unnamed driver was a Honduran national who had previously entered the U.S. illegally. He also had a "history of drugs and weapons charges." 
Tightly packed into the back of his rig were 76 migrants. The disheveled men were under a makeshift blue-tarp roof. At that point, the Texas Border Protection team was called in.
Since the driver was not here legally, border officials made the arrest. He also had meth in his possession. He was arrested on human smuggling charges. And the illegal migrants were taken into custody by the Border Patrol.
Human smuggling increases: Title 42 ending 
The Border Patrol announced on Friday that it is trying to gear up for even more surges in illegal immigrants at the southern border. The numbers of illegal crossings are already at a record high.
U.S. Customs and Border Protection (CBP) continues to be overwhelmed by the influx. 
The Biden administration has had only nominal enforcement of border security. And has encouraged policies making it difficult to enforce existing laws.
On Friday Biden announced he was ending Title 42 on May 23rd. The policy was used by the Trump administration to quickly return immigrants to their original homes, citing COVID-19 public-health concerns.
"We are expecting to get wrecked," a Border Patrol agent admitted candidly.
The Department of Homeland Security does not currently have a plan. But is said to be working on one.
In the meantime, according to statistics the US is more than ever a "borderless country." And Texas border officials are investigating the human smuggling operation which, more than likely, involves bad actors on both sides of the border.