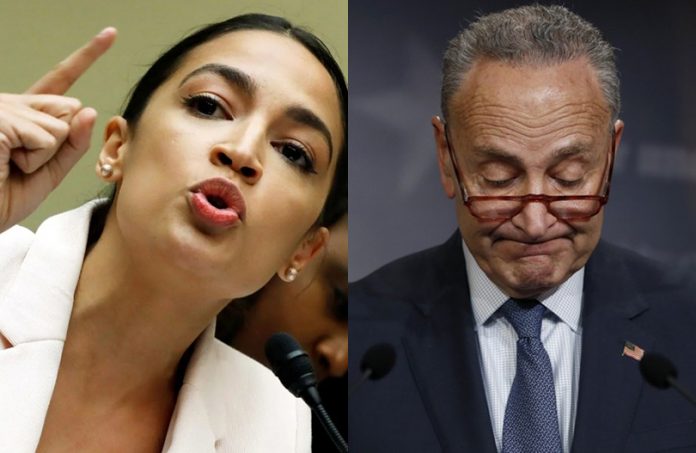 With re-election looming in 2022, Senate Majority Leader Chuck Schumer is finding his position a little unsteady.
Now that Democrats hold the Senate and the House, Sen. Schumer has been reaching out to progressives and activist groups to gauge the levels of support he will have in the upcoming midterms.
Additionally, Sen. Schumer, has been taking steps both publicly and privately to steel himself from a left-wing primary challenge especially from his biggest threat, Representative Alexandria Ocasio-Cortez.
New York, the veteran senator's home state, is the epicenter of the progressive movement's efforts to oust incumbent Democrats in Congress for years of inaction.
With the recent control over the House and the Senate, rumors of AOC possibly challenging Schumer in the primary arose. These rumors of potentially ousting the career politician are causing Schumer to be more proactive and engaged in progressive agendas.
"Schumer has thrown his weight behind a plan to cancel student loan debt by executive order. He's voted against the United States-Mexico-Canada Agreement. He's said 'nothing is off the table' when it comes to eliminating the filibuster. And that's only a fraction of the progressive moves he's made in recent years. It still hasn't inoculated him from the possibility of a primary." Politico reported.
"It's exciting to see how much action Schumer is currently taking," said Saikat Chakrabarti, Ocasio-Cortez's former chief of staff. "And I hope that progressives continue pressuring him, threatening a potential primary."
With Schumer leading the Senate, the prospect of a left-wing challenge next year stands to play a major role in shaping the legislation that comes out of Washington. That applies whether or not Ocasio-Cortez steps up to the plate, at least for the next few months.
The two-term congresswoman is seriously considering campaigning for the seat but is so far undecided. Multiple sources said her decision will be contingent on how Schumer wields power with his new Democratic majority in the upcoming months: Will he be pushed around by Mitch McConnell? Or will he work to pass ambitious, progressive legislation favored by the left?
Her comments left little room for bipartisan healing and further shows her lack of understanding on how to govern all Americans.
"It's dependent on what Schumer does," said Waleed Shahid, communications director for Justice Democrats, the left-wing group that recruited Ocasio-Cortez to run for Congress, referring to a challenge by her or another progressive candidate. "Schumer will have to explain every one of his decisions to one of the most progressive primary electorates in the country, and if voters think he's capitulating to Mitch McConnell and not organizing his caucus to deliver for working families, then he's going to be in some trouble."
So yet again, a list was made and the proverbial target placed by young Democratic Socialist Rep. Ocasio-Cortez. This appears to be the way she pushes most of her agendas forward, through manipulation and threats. There may be little hope for unity in the near future, as Schumer will undoubtedly do what he must to maintain his position and power, even if it requires him to turn a deaf ear to his constituents.