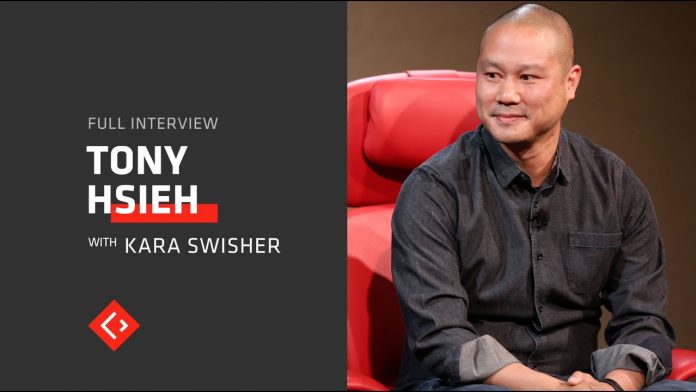 Zappos founder and former CEO, Tony Hsieh, died tragically in December 2020 at the age of 46.  Zappos is an online Las Vegas-based successful clothes and shoe retailer. And since Hsieh didn't leave a will, his friends and family are fighting over the $500 million dollar estate.
The Wall Street Journal reported that Hsieh had a habit of jotting down specifics of business deals on sticky notes. And that there were thousands found all over the walls of his Park City, Utah, home.
Some of the claims on the estate are based on those sticky notes. 
Mark Evensvold, filed with the court claiming he is owed $30 million. This was based on a note written three months before Hsieh died. 
The sticky note said Hsieh would pay Evensvold $450,000. And the claimant would move to Park City and become a project manager for a 20% share in a Hsieh restaurant business.
Family and Friends in conflict
The Zappos icon's family will by law inherit the majority of his assets. However many of his relatives and friends are disputing who truly cared for Hsieh and who cared more for his status and wealth.
Hsieh's brother Andy, is being accused of enabling the former CEO's drug and alcohol abuse. And his family claims in court filings that Hsieh's friends were pushing him to make "impulsive" and "incoherent investments."
Well-known actors Joseph Gordon Levitt and David Arquette, are being subpoenaed.  The subpoenas claim that as friends of Hsieh, the men were aware of his mental health problems.
Tony Hsieh Visionary genius with chaotic policies
In August 2020, after 20 years with Zappos, he had announced his retirement as CEO.
Kedar Deshpande, the current Zappos CEO called Hsieh a "tremendous visionary and an incredible human being."
Hsieh is known to have unusual, sometimes inspired workplace policies. 
He practiced  "Holacracy."  This is a system where there is no management structure at work. And the flat hierarchy allows every employee to work without an assigned role. He believed this inspired more creativity and flexibility. But it could also result in chaos and conflicts.
He was a pioneer in the idea of paying new hires who were unhappy $2,000 to quit. Hsieh was an advocate of having all Zappos employees be passionate and committed to the company.
Hsieh's addiction and mental health struggles were increased in 2020. The isolation of the COVID-19 techno-pandemic took its toll on the genius millionaire. 
Tony Hsieh died in a Connecticut house fire in December 2020. Investigators concluded the fire was "caused by carelessness or an intentional act by Mr. Hsieh."