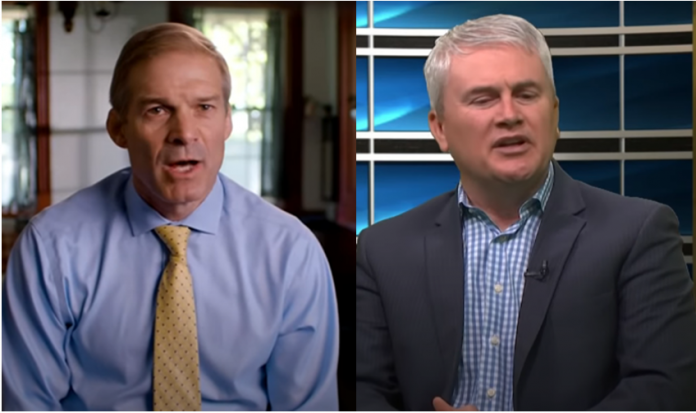 Ranking Republicans on House Oversight and Judiciary Committees have demanded a congressional probe into supposed "irregularities" linked to the 2020 presidential election.
Jim Jordan of the House Judiciary Committee and James Comer of the House Oversight Committee wrote a letter to Democratic House panel chairpersons Jerrold Nadler and Carolyn Maloney to immediately hold hearings on the alleged voter fraud that took place in the elections.
"We urge you to immediately convene hearings to examine the integrity of the 2020 election amid troubling reports of irregularities and improprieties," Jordan and Comer, the most senior Republicans in their own committees, wrote in a letter.
They added, "Given your role as leaders of a political party that spent four years baselessly calling into question the legitimacy of the 2016 election with debunked allegations of Russian collusion, you owe it to all Americans to fully examine allegations of actual election errors and misconduct."
They were referring to the large-scale probe into whether the Trump campaign connived with the Russian government in the 2016 elections.
The probe is necessary to uphold vote integrity, top Republicans assert
President Donald Trump has lost to President-elect Joe Biden in the race. The fight, however, continues for Trump after he refused to concede to his Democratic opponent. His campaign has also mounted legal cases to challenge the credibility of the elections.
Jordan and Comer said election investigations are e necessary because of "dangerous initiatives" that raise the risk of election-related crimes and errors that "undermine the integrity of the electoral process" and "cause lingering uncertainty about the results of the election for several days or weeks after Election Day."
"Democrats ignored this report, but many of our predictions have unfortunately come true," they wrote.
The Republican lawmakers also challenged Democrats that because they "refuse to clean up outdated and inaccurate voter registration rolls, a last-minute move to widespread mail-in voting in some states would have unintended consequences."
They added, "These serious concerns give rise to the urgent need for congressional oversight of the integrity of the 2020 election."
President Trump on Wednesday paid some $3 million for a recount of Wisconsin's two largest Democratic counties.
The state, which overwhelmingly favored Biden, was cited by Trump in his latest tweet, as he fumed over alleged irregularities that transpired.
Look at this in Wisconsin! A day AFTER the election, Biden receives a dump of 143,379 votes at 3:42AM, when they learned he was losing badly. This is unbelievable! pic.twitter.com/nhiLMmyHBn

— Donald J. Trump (@realDonaldTrump) November 19, 2020
—————————————-
Have a story you want USA Herald to cover? Submit a tip here and if we think it's newsworthy, we'll follow up on it.
Want to contribute a story? We also accept article submissions – check out our writer's guidelines here.