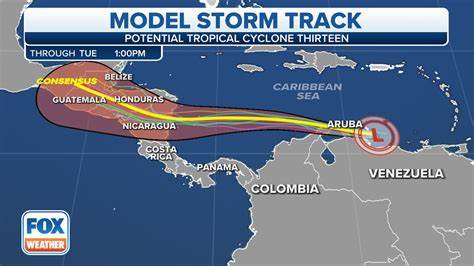 On Friday, a tropical depression bringing heavy rain to the northern part of South America turned into Tropical Storm Julia. And it is expected to build into a hurricane over the Caribbean.
A National Hurricane Center (NHC) advisory at 8 a.m. Friday estimates the storm is 645 miles east of Providencia, Colombia, and has average winds near 35 mph with higher wind gusts strengthening to 85 mph before landfall. 
The system is moving west at 15 mph. This trajectory is expected to continue through Sunday, according to the NHC.
It is forecast that Julia will be a Category 1 hurricane before reaching the Colombian islands of San Andres and Providencia. And making landfall along the coast of Nicaragua this weekend.
Tropical Storm Julia storm 10 of 2022
Parts of Colombia from Riohacha to the Venezuelan border remain under a tropical storm alert "during the next day or two." And the Hurricane Center warns the system may bring heavy rain, with the threat of life-threatening flooding across the Guajira Peninsula of Colombia, the Northern part of Venezuela, and the ABC Islands (Aruba, Bonaire, Curacao).