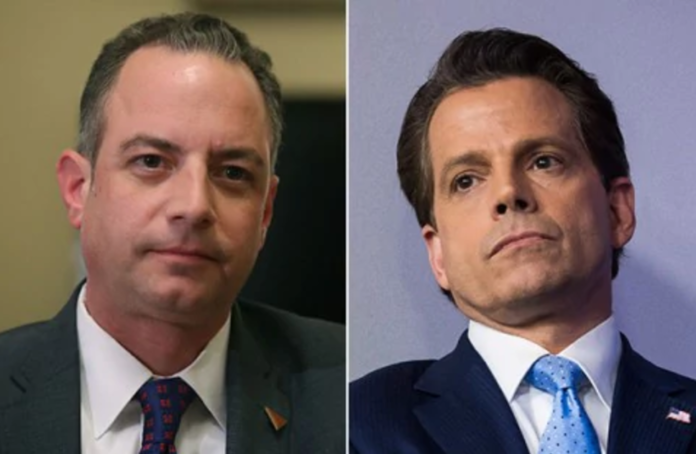 Is there trouble in the paradise known as the Trump White House?
Apparently, the Chicago Tribune thinks so. Reports indicate that President Trump's decision to hire Anthony Scaramucci as the White House communications director was controversial, at best. Some people deem Scaramucci's larger-than-life persona as unfit for serving in the White House. Despite this, Scaramucci seems pleased to be joining the President's administration. He even brushed off claims that he and White House Chief of Staff Reince Priebus were at odds, despite reports from sources.
However, leaks from Thursday night quickly threw a wrench in Scaramucci's easy-going facade. According to Business Insider, Scaramucci and other White House officials believe that Priebus recently leaked confidential information to news outlets. As a result, the new communications director planned to gather together evidence to support these facts and then present them to President Trump with the intention of getting Priebus fired. This revelation came to light after someone beat Scaramucci at his own game and leaked his plans to expose Priebus to the press.
The discourse and infighting within the White House is not good. If the Trump administration is serious about engendering real progress and following through on promises made to the American people during the 2016 Presidential election, the last thing they should be doing is quarreling and plotting to expose each other to the press. White House officials need to work together in order to lower taxes, build the wall, fix infrastructure, and see if healthcare reform is salvageable.
More reports from Business Insider indicate that Priebus has perhaps fallen out of President Trump's good graces. Priebus' days are supposedly "numbered" and KellyAnne Conway allegedly hinted at a possibility that Priebus could be leaving the White House administration sooner rather than later.
Likewise, Scaramucci reportedly made the following remarks about Priebus:
"I fired one guy the other day. I have three to four people I'll fire tomorrow. I'll get to the person who leaked that to you. Reince Priebus — if you want to leak something — he'll be asked to resign very shortly. They're trying to resist me, but it's not going to work. I've done nothing wrong on my financial disclosures, so they're going to have to go f— themselves. What I want to do is I want to f—— kill all the leakers and I want to get the President's agenda on track so we can succeed for the American people."
This does not bode well for anyone. Republicans need to get it together…quickly.