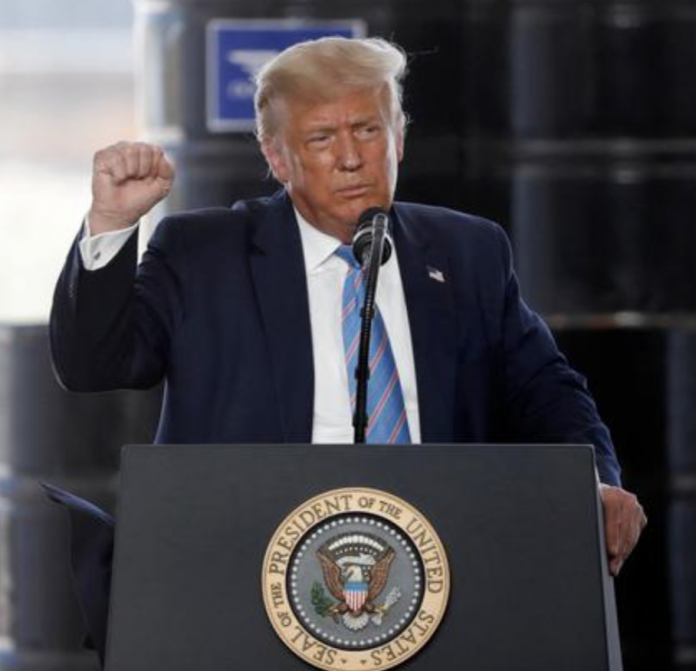 In the 2020 presidential election, Texas has rapidly become a battleground state.
Right now, a new Morning Consult poll shows Biden ahead of Trump by 2%. This has not stopped the Trump campaign from maintaining confidence in the president's ability to ultimately win in the deeply conservative, Southern state.
On Wednesday, the Trump campaign traveled to Texas in order to bolster support and ultimately ensure that voters in the Lone Star State show up for him in November.
The president's stop in Texas arrives as the Biden campaign increases negative advertisements against Trump in the state. Many of the ads target the president's management of COVID-19; this has turned into a common theme for the Biden 2020 campaign.
What to know about Trump in Texas
Midland was one of the president's stops in the Lone Star State. While in this city, Trump talked about the importance of our nation's energy industry; more specifically, the president warned that electing Biden would bring about the downfall of drilling, fracking, and ultimately, the entire industry.
The Trump campaign also noted the fact that much of Texas' economy is reliant upon its energy sector. Trump warned that Democrats in power would "tear down everything in [their] way" to gain even more control over other people's lives.
Finally, Trump explained to Texans the steps that his administration is taking to preserve Texas' energy industry. These steps include signing off on liquefied natural gas exportation for the next 30 years and furthermore vowing to safeguard America's energy business.
Could Biden flip Texas blue?
Despite Biden spending money on advertising in Texas, many Americans remain doubtful that the Lone Star State will abandon Trump. Texas is deeply conservative; moreover, the state has not voted for a Democrat presidential candidate since 1976.
Many of Biden's fiscal policies are also not in alignment with conservatives and right-wingers in Texas. Policies such as reducing funding to police departments are at odds with Republicans; the same situation applies to Biden's penchant for gun control measures and his promise to become "the most progressive" commander-in-chief, should he win the election in November.
Objectively, poll numbers are not always indicative of final outcomes. This is something many Trump supporters are pointing out in the wake of polls showing Biden in the lead.
————————————————–
Have a story you want USA Herald to cover? Submit a tip here and if we think it's newsworthy, we'll follow up on it.
Want guaranteed coverage? We also offer contract journalism here.  Just be sure you're comfortable giving up editorial control, because our journalists are dogged and will follow the story through to it's conclusion. The story will be published to our exacting standards, without regard for your preferred slant.
Want to contribute a story? We also accept article submissions — check out our writer's guidelines here.