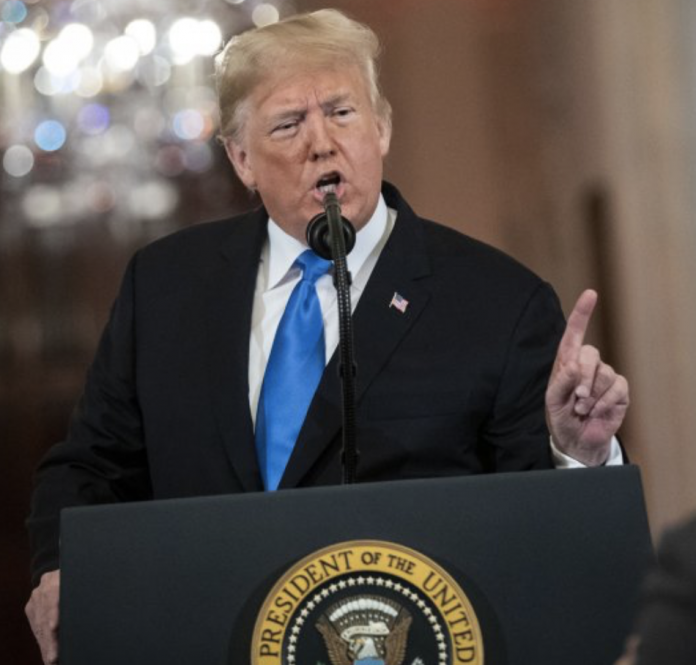 President Donald Trump condemned "racism, bigotry and white supremacy" after 31 people lost their lives during the mass shootings in El Paso, Texas and Dayton, Ohio this weekend.
In El Paso, a gun man killed 22 people at a shopping center on Saturday. The shooter in Dayton killed 9 individuals at a popular nightlife district on Sunday. Many others were injured during these mass shootings, just 13 hours apart.
In his remarks from the White House on Monday, Trump called the suspects as "twisted monsters" who committed "barbaric crimes" in El Paso and Dayton.
The President said, "The shooter in El Paso posted a manifesto online consumed by racist hate. In one voice, our nation must condemn racism, bigotry and white supremacy. These sinister ideologies must be defeated. Hate has no place in America. Hatred warps the minds, ravages the heart and devours the soul.
In addition, Trump said, "We vow to act with urgent resolve." He directed the Federal Bureau of Investigation (FBI) to "investigate and disrupt hate crimes and domestic terrorism"
Furthermore, the President noted that the internet provided a "dangerous avenue to radicalize disturbed minds and perform demented acts." He also cited that criminals use the internet for "human trafficking, illegal drug distribution, and many other heinous crimes." He said we cannot ignore the threats of the internet and the social media.
"We cannot allow ourselves to feel powerless. We can and we will stop this evil contagion," said Trump. 
Trump wants death penalty for those who commit hate crimes and mass murders
Moreover, he implored Americans to honor the memory of those who lost their lives in the mass shooting by "acting as one people." He said, "Open wounds cannot heal if we are divided. We must seek real bipartisan solutions…to make America safer and better for all."
He directed the Department of Justice (DOJ) to partner with federal, state and local law enforcement agencies and social media companies to develop tools to detect mass shooters before they strike.
Trump also want people to immediately "stop the glorification of violence" in our society including the "gruesome and grisly video games."
The President wants to reform the country's mental health laws to better identify mentally disturbed individuals who may be a danger to others and make sure that get treatment. He said, "Mental illness and hatred pulls the trigger not the gun."
He also called for "red flag laws or extreme risk protection orders" and directed the DOJ to "propose legislation ensuring that those who commit hate crimes and mass murders to face the death penalty."