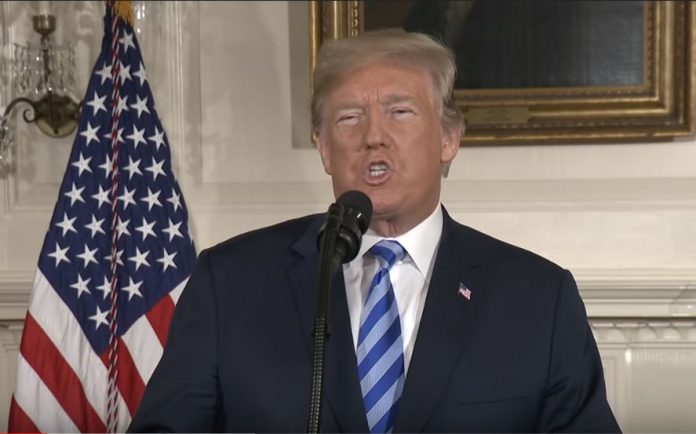 President Donald Trump contradicted his own administration officials who stated that the citizenship question will no longer be included in the 2020 Census.
On Tuesday, a lawyer for the Department of Justice (DOJ) and Commerce Department Secretary Wilbur Ross said the Census Bureau is printing the Decennial Census questionnaire without the citizenship question.
On Wednesday, Trump rejected reports about the DOJ and Commerce Department's decision on the issue as "fake." He said his administration is "absolutely moving forward" on reinstating the citizenship question on the 2020 Census.
He tweeted, "The News Reports about the Department of Commerce dropping its quest to put the Citizenship Question on the Census is incorrect or, to state it differently, FAKE! We are absolutely moving forward, as we must, because of the importance of the answer to this question."
Supreme Court ruled that Sec. Ross' reasons to add citizenship question was "contrived"
Last week, the U.S. Supreme Court ruled that the Commerce Department failed to provide adequate and clear explanation for its decision to reinstate the citizenship question on the Decennial Census.
In its ruling, which was written by conservative Justice John Roberts, the high court noted a significant mismatch between Sec. Ross' decision and rationale to reinstate the citizenship question. Justice Roberts described Sec. Ross' reasons as "contrived."
The Supreme Court agreed with the District Court's ruling in remanding the issue to the Commerce Department. The high court emphasized that "agencies must pursue their goals reasonably. Reasoned decision-making under the Administrative Procedure Act calls for an explanation for agency action. What was provided here was more of a distraction."
Sec. Ross says he disagrees but respects the Supreme Court's decision
The Supreme Court's ruling prompted Sec. Ross to abandon his efforts to reinstate the citizenship question.
"I respect the Supreme Court but strongly disagree with its ruling regarding my decision to reinstate a citizenship question on the 2020 Census," said Sec. Ross in a statement Tuesday.
He added, "The Census Bureau has started the process of printing the decennial questionnaires without the question. My focus and that of the Bureau and the entire Department is to conduct a complete and accurate census."
Separately, a DOJ lawyer confirmed Sec. Ross' decision to those who sued to stop the inclusion of the citizenship question on the 2020 Census.
"We can confirm that the decision has been made to print the 2020 Decennial Census questionnaire without a citizenship question, and that the printer has been instructed to begin the printing process," according to the DOJ lawyer.
A victory for California and other states
Meanwhile, California Governor Gavin Newson commented that the Trump administration decision is a "victory' for his constituents.
He said, "This is a victory for Californians and for our democracy and a defeat for the Trump administration's relentless attack on our immigrant communities. California has refused to stand by and let this Administration succeed in its attempt to undermine our census count. Everyone needs to be counted. Our message is clear, if you don't participate, Trump wins."
On the other hand, Pennsylvania Gov. Tom Wolf commented, "The census plays an objective role in our representative democracy and it must count everyone fairly. The federal government has now made the right decision and I applaud all those that fought for a fair census."