President Trump continues to the break the partisan mold. The administration and Democratic leadership announced Thursday that they have reached a loose agreement about how to handle young undocumented immigrants. This comes in the wake of conflicting denials from the administration. The agreement contains increases in border security, but conspicuously leaves out funding for Trump's much-touted border wall.
Trump angered his Republican congressional counterparts last week when he opted for the Democrats' three month debt ceiling proposal (tied to hurricane relief) over the Republicans' 18-month option. And now, this week, he has angered them once again by negotiating with Pelosi and Schumer on DACA.
The deal comes on the heels of a private dinner Wednesday night between Mr. Trump and Democratic congressional leaders Chuck Schumer and Nancy Pelosi. Mr. Schumer announced on the Senate floor Thursday that "we all agreed on a framework: Pass DACA protections and additional security measures, excluding the wall."
Conservative Backlash
President Trump, facing criticism from conservatives, insisted on Twitter that "no deal was made last night on DACA. Massive border security would have to be agreed to in exchange for consent."
Immigration and border security was an issue that President Trump took a hard-line stance on during the election. Therefore, his decision has incensed his conservative political allies and will no doubt distance him from his base. Iowa Representative Steve King, warned that if the deal is real, the "Trump base is blown up, destroyed, irreparable disillusioned beyond repair." "No promise is credible," he added.
Ann Coulter, a vehemently outspoken Trump ally due to his stance  on immigration, berated him on Twitter Thursday.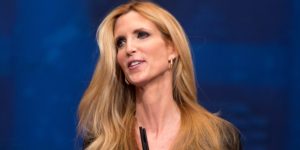 "At this point, who DOESN'T want Trump impeached?" she tweeted. An hour later she added "If we're not getting a wall, I'd prefer President Pence."
President Trump did follow through on a campaign promise by rescinding the DACA executive order. However when he did so, he gave Congress six months to come up with a legislative replacement. Trump's negotiations and apparent agreements with Democrats represent a stunning about-face, confusing and frustrating Republican members of congress.
Muddled Messaging
Confusing the messaging even more, Trump tweeted today some sympathetic words of Dreamers, the young immigrants targeted under the DACA order. "They have been in our country for many years through no fault of their own – brought in by parents at young age. Plus BIG border security," he wrote.
Republican Congressman Mo Brooks of Alabama told the NY Times that "anything that smacks of amnesty in Alabama… is not going to be well received."