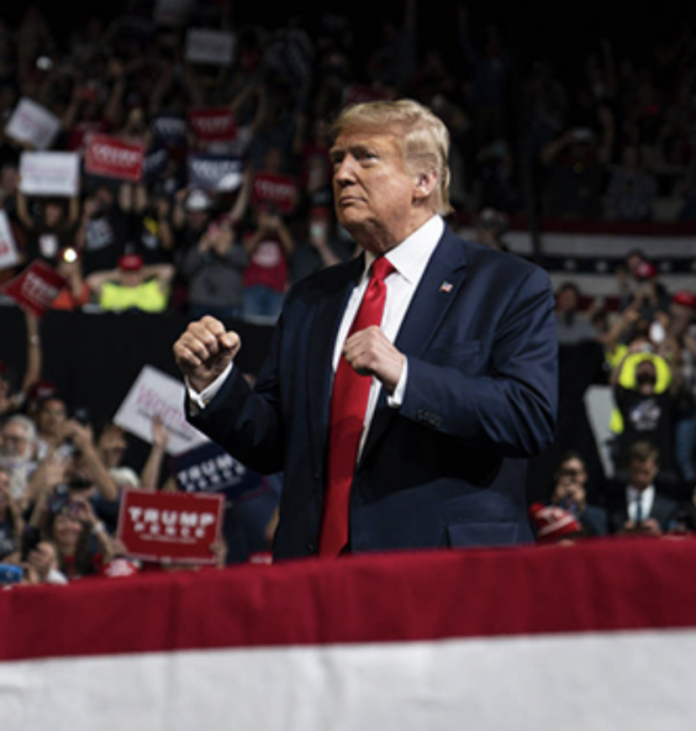 Last night, 2020 Democrat candidates convened in Las Vegas, Nevada for the ninth primary debate. During this time, contenders hoping to take on Trump took shots at one another on healthcare, the fossil fuel industry, and more. New to the stage was former New York City Mayor Mike Bloomberg.
Bloomberg's arrival at the debate stage certainly shook up the dynamic. Elizabeth Warren, Joe Biden, and Bernie Sanders each took their own shots at Bloomberg. The censure pertained to not only Bloomberg's manner of spending throughout this election, but also his past remarks on farmers, minorities, and his nondisclosure agreements with female employees.
Additional interesting points arrived when Pete Buttigieg and Amy Klobuchar clashed with one another.
Earlier tonight, President Trump weighed in with his thoughts on last night's debate while hosting a campaign rally in Colorado.
What Does Trump Think of the Las Vegas Debate?
In a nutshell, the president stated that Amy Klobuchar and Mike Bloomberg had a worse night than the other candidates.
When speaking before his Colorado supporters, Trump professed that the Minnesota senator "choked" and "couldn't breathe" when being pressed by Buttigieg. The former South Bend mayor repeatedly criticized Klobuchar for failing to remember the name of the Mexican president earlier this month.
TRUMP ON DEM DEBATE: "How about Klobuchar? She choked…"

"She choked. She couldn't breathe!"

"Alfred E. Neuman looked at her and said something slightly derogatory. And she said 'Are you accusing me of being dumb?' Who would make a statement like that?" pic.twitter.com/hBUeEp7ycD

— Breaking911 (@Breaking911) February 21, 2020
Shortly thereafter, Trump shared his thoughts on Bloomberg's execution during the ninth Democrat debate. The president pointed out that the former mayor didn't do so well; Trump's consensus is largely popular by far, with folks on both the left and the right saying that Bloomberg didn't have a great night on Wednesday.
Of course, it's important to note that Trump and Bloomberg sparred with one another multiple times via Twitter prior to the debate in Las Vegas. The president has taken issues with the manner in which "Mini Mike" portrays him in campaign ads; furthermore, Trump previously suggested that Bloomberg might be interested in a box on the debate stage to appear taller.
More on the Las Vegas Debate
Last night's debate garnered significantly high ratings and notable attention. Many Democrats additionally took to social media, praising Warren for her strong attacks against Bloomberg. Likewise, Joe Biden and Bernie Sanders also received some recognition from members of their base.
Wednesday's debate came as Democrats continue preparing for the Nevada caucus. Thus far, Bernie Sanders remains in the lead as other contenders scramble to catch up.
I was thrilled to be back in Colorado Springs tonight, beneath the majestic peaks of the Rocky Mountains, with thousands of terrific, hardworking American Patriots. With your help, this November, we are going to defeat the Radical Socialist Dems, and we are going to WIN Colorado! pic.twitter.com/uagWRzFlBs

— Donald J. Trump (@realDonaldTrump) February 21, 2020