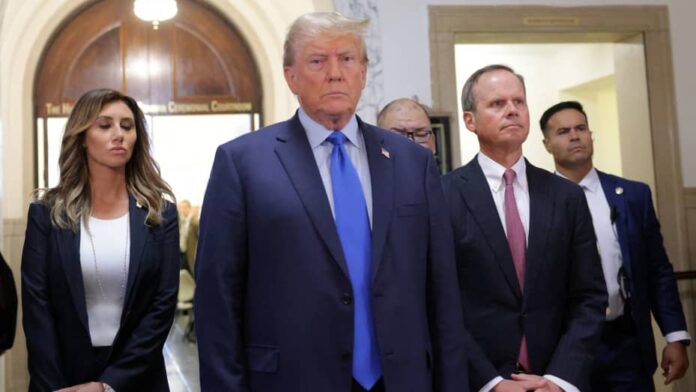 7:40 a.m.: The iconic New York County Supreme Court at 60 Centre Street is abuzz. A labyrinth of metal barriers envelops the courthouse steps, with an ever-growing line of eager observers. Both Attorney General Letitia James and former President Trump are slated to be present, setting the stage for a showdown in this high-stakes legal drama. At its core, the legacy of Trump's real estate empire in the Big Apple, featuring marquee properties like Trump Tower and 40 Wall Street, dangles precariously. Moreover, an estimated whopping $250 million in potential ill-gotten gains is in the spotlight.
Trump NY AG Fraud Case : Courtroom Chronicles
9:30 a.m.: Inside the grand third-floor courtroom, one can't help but admire the faded murals depicting New York's earliest trial courts. A mix of Secret Service agents and court officers sets the ambiance. Awaiting in anticipation, the room grows restless.
10:07 a.m.: All eyes are drawn to the entrance as Trump strides in, akin to a scene straight out of a classic movie, accompanied by a symphony of camera flashes. AG James is seated, making this courtroom scene a true battle of the titans.