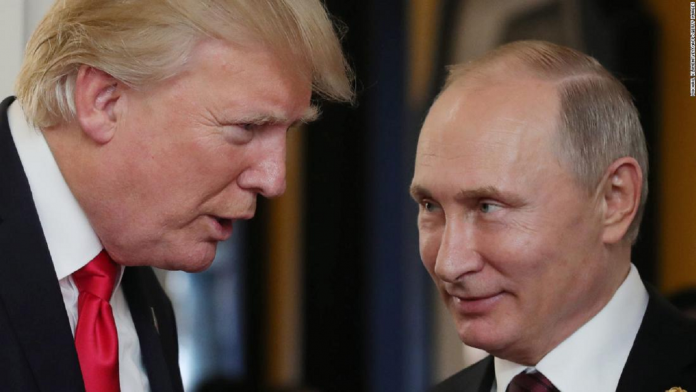 The unpredictable U.S. president and steely-eyed longtime leader from Russia are set to meet on Monday. It is anyone's guess what the outcome will be. There's no set agenda. The meeting could veer between substance and spectacle. There are a few things that Donald Trump and Vladimir Putin may be hoping to achieve.
What Trump Wants
This is one of the greatest mysteries of Trump's presidency.
Trump will go into the meeting followed by accusations about his ties with Russia. These accusations have only raised more concerns about the meeting. The Department of Justice indicted 12 Russian military intelligence officers last week. They're accused of infiltrating Hillary Clinton's email account in an effort to help Trump win the 2016 election.
Trump will meet Putin face-to-face and ask him about the allegations. Though special counsel Robert Mueller alleges that Trump knew about the infiltration, he has not charged the president.
Besides his own election, top on Trump's agenda is Iran's presence in Syria. According to the president, he would like Russia to join the U.S. in pressuring Iran to withdraw the majority of its forces.
However, Trump told reporters that he thinks the leaders are going to the meeting without looking for too much.
What Putin Wants
Putin will have a chance to start repairing relations with the United States after years of tension. The recent allegations regarding his intelligence officials won't help matters on that front.
Putin says he wants the U.S. to pull back NATO forces near Russia's borders, lift sanctions and restore business with Moscow. Putin wants to persuade the U.S. to recognize Russia as a global player. Also, he hopes that the U.S. will acknowledge Russia's influence in its region.
Putin knows that one meeting won't create significant progress. These are long-term goals. He sees this meeting as an opportunity to set the stage for high-level contacts. Putin also wants to develop a good rapport with Trump.
Trump criticized NATO allies and suggested that Russia should be back in the Group of Seven club. Moscow views these comments with optimism, but no euphoria.
Fyodor Lukyanov, the chairman of the Council for Foreign and Defense Policies, said that U.S.-Russia ties have never been as bad as they are now. He views this meeting, however, as the first step toward better relations.