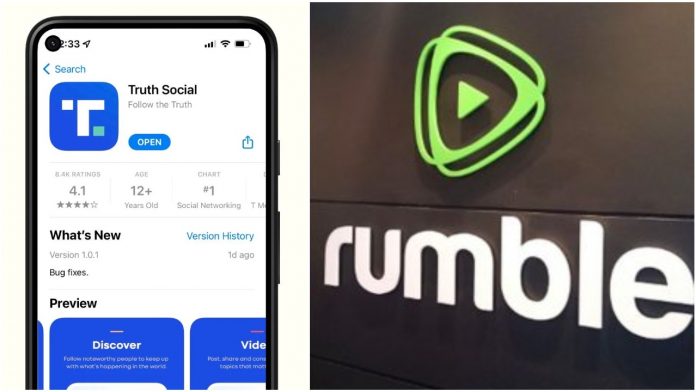 Trump Media & Technology Group (TMTG) announced that Truth Social, the social media site, has successfully migrated to the Rumble Cloud infrastructure on April 22nd. 
The migration of Truth Social's website and mobile applications to Rumble's cloud datacenters will allow the platform to "scale significantly on a new and cancel-culture-free cloud platform." 
Truth Social and Rumble Cloud combine
Truth Social CEO Devin Nunes announced that "Yesterday, Truth Social and Rumble took a major stride toward rescuing the internet from the grip of the Big Tech tyrants. Our teams have worked tirelessly to realize this great endeavor. Rumble's cloud infrastructure is second to none and will be the backbone for the restoration of free speech online for ages to come." 
Nunes explained that the move to Rumble has accelerated the onboarding of millions of users. Truth Social had a soft launch in February which resulted in a huge volume of interested users.
The Truth Social platform is planning on being a Big Tech alternative that will be an uncensored haven for free speech.
In October 2021, TMTG announced that TMTG entered into a definitive merger agreement with Digital World Acquisition Company (NASDAQ: DWAC). 
The agreement also marks the largest customer to sign on with the Rumble cloud services business. 
"We are excited to partner with one of the fastest-growing social media companies on the internet. Providing top-notch cloud infrastructure is essential, and Truth Social users will start to see the fruits of our efforts immediately," said Rumble Founder and CEO Chris Pavlovski.
Rumble's mission is to restore the Internet to its roots by making it free and immune to cancel-culture.
Stock up in premarket trading
Trump SPAC Digital World Acquisition (NASDAQ: DWAC), still plans on taking the company public. And shares were up 6.4% in premarket trading. The rise came with the announcement of the migration to Rumble's cloud infrastructure.
The gains in premarket trading of DWAC came after a two-day plunge of 22%. The price fall was largely attributed to the short report from Kerrisdale that claimed the company was unlikely to get regulatory approval. The approval is required to finalize the SPAC deal to go public with Trump's social media company.