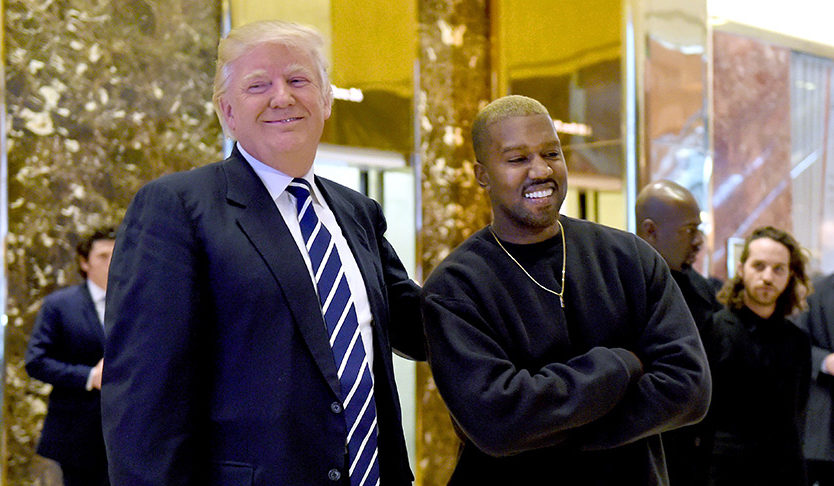 Ahead of Wednesday's tech summit, President-elect Donald Trump has made headlines again today for another high-profile meeting with a big name. Kanye West, a popular musician, showed up at Trump Tower today for an impromptu meeting with the future President. West later said that he and Trump discussed "multi-cultural issues," including, bullying, supporting teachers, modernizing curriculums, and violence in Chicago." West stated, "I feel it is important to have a direct line of communication with our future President if we truly want change."
Kanye West is the latest in a broad range of high-profile figures that President-elect Trump has met with. Many of these figures have been surprising. In the wake of consistently right-wing cabinet selections, Trump has seemed willing to host meetings and hold discussions with a more diverse cast, many of whom have been in direct opposition to the incoming President. Many of these figures are political names, like Mitt Romney (a harsh critic of Trump during the primary and general elections), Rahm Emanuel (a prominent member of both Bill Clinton's and Barack Obama's administrations) and Al Gore. Others have been prominent business leaders like Bill Gates, Patrick Soon-Shiong, and Japanese tech billionaire Masayoshi Son.
Trump has also met with several prominent athletes. Boxing legend Floyd Mayweather Jr. made a visit in November to Trump Tower to visit the President-elect. More recently, retired NFL stars Jim Brown and Ray Lewis sat down with Trump. The retired football greats met with Trump to discuss Brown's Amer-I-Can program. The program focuses on steering kids away from gang activity and violence. According to Lewis, "The bottom line is job creation and economic development in these urban areas to change the whole scheme of what our kids see."
Wednesday, Trump will host a tech summit that will include tech investor Peter Thiel, Apple CEO Tim Cook, Tesla, and SpaceX CEO Elon Musk, Microsoft CEO Satya Nadella, and Amazon CEO Jeff Bezos, among others. Facebook, Alphabet, Intel, Oracle, Cisco and IBM will also have top executives present at the summit.
One thing is clear, during the transition period between Barack Obama's administration and Donald Trump's inauguration, the President-elect will have heard from a broad range of individuals and experienced a very diverse set of opinions.