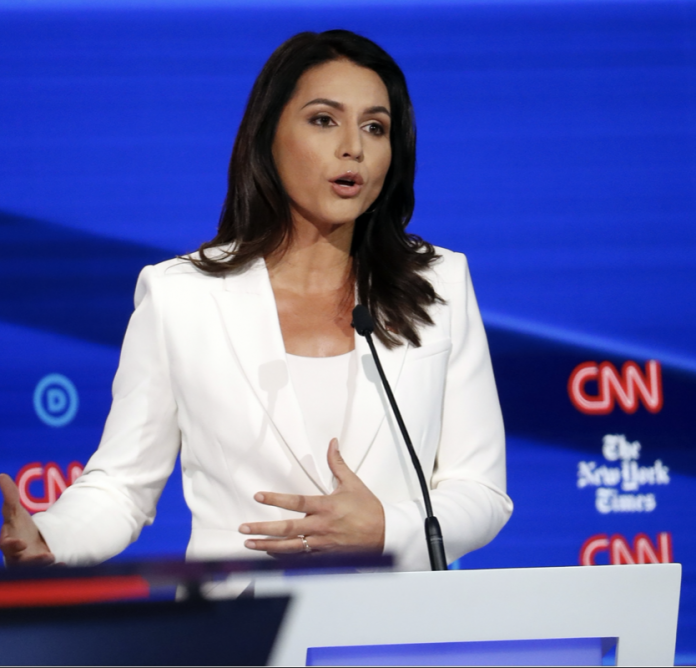 As the 2020 race plays out, there is talk about the Russians and potential concerns about interference in elections. A lot of this carries over from the 2016 presidential election, where various individuals raised concerns about whether or not the Russian government aided President Trump in defeating Hillary Clinton.
Reviewing Clinton's Latest Accusations
As of late, Hillary Clinton is in the news for various reasons. Not only is she promoting a book with her daughter, Chelsea Clinton, but the failed presidential candidate also shared her thoughts on 2020 Democrat Tulsi Gabbard.
While speaking with the "Campaign HQ" podcast, Clinton professed that Russians are "grooming" Gabbard to run as a third-party candidate; this would, of course, split votes from the Democrat Party and increase the likelihood of a Republican victory in 2020.
Throughout Clinton's aforementioned assertions, she failed to provide concrete evidence that Gabbard is "the favorite of the Russians" with "a bunch of sites and bots and other ways of supporting her so far."
However, Tulsi Gabbard did respond to Clinton's unfounded claims.
Everything You Need to Know About Gabbard's Rebuttal
Since launching her campaign to become the next president, Gabbard has not hesitated to point out corruption. Much of that corruption comes from the media and even factions within the Democrat Party.
In fact, during Gabbard's time at Tuesday night's fourth Democrat debate, she called out CNN and the New York Times for branding her as an "Assad apologist" and a "Russian asset." The aforementioned smears against Gabbard come in spite of her status as a military combat veteran.
When responding to Clinton's statements, Gabbard published a series of tweets. In these tweets, the 2020 Democrat called out Clinton for corruption and moreover dared her to enter the 2020 race.
See for yourself:
Great! Thank you @HillaryClinton. You, the queen of warmongers, embodiment of corruption, and personification of the rot that has sickened the Democratic Party for so long, have finally come out from behind the curtain. From the day I announced my candidacy, there has been a …

— Tulsi Gabbard (@TulsiGabbard) October 18, 2019
… concerted campaign to destroy my reputation. We wondered who was behind it and why. Now we know — it was always you, through your proxies and …

— Tulsi Gabbard (@TulsiGabbard) October 18, 2019
… powerful allies in the corporate media and war machine, afraid of the threat I pose.

It's now clear that this primary is between you and me. Don't cowardly hide behind your proxies. Join the race directly.

— Tulsi Gabbard (@TulsiGabbard) October 18, 2019
Thus far, Hillary Clinton has yet to respond to Gabbard or accept her challenge to enter the race.
More on Differences Between Tulsi Gabbard and Hillary Clinton
When Hillary Clinton ran for office, she infamously referred to many Trump supporters as "deplorables."
During this week's fourth Democrat debate, Gabbard stated that she "doesn't see deplorables," when she looks at the country, but that she sees "fellow Americans."
I love our country. It's why I decided to enlist after 9/11, why I serve in Congress, and why I'm offering to serve as your commander in chief — to protect you, our Constitution, our freedom. https://t.co/O84E20Lpio #TULSI2020 #TulsiGabbard #ServiceBeforeSelf pic.twitter.com/wTpDKShEUI

— Tulsi Gabbard (@TulsiGabbard) July 31, 2019