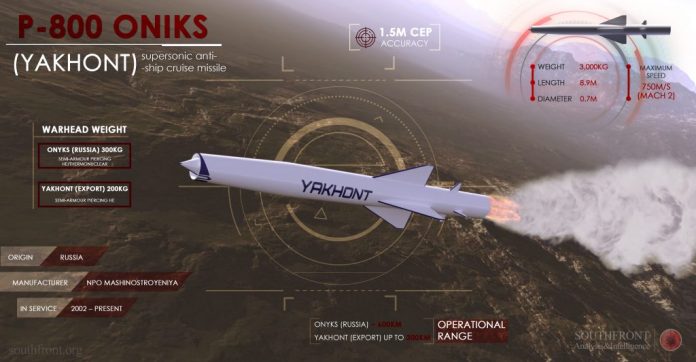 It was a busy weekend for the Armed Forces of Ukraine. On the night of June 17th, two Russian Oniks missiles were shot down in the occupied Crimea region. They were launched by Russian occupying forces.
The spokesperson for the Odesa Oblast Military Administration, Serhii Brathcuk, said on Telegram that "At night, the enemy attacked Odesa Oblast with missiles which were launched from the territory of temporarily occupied Crimea. I'm grateful to our soldiers for a job well done – two lethal 'little birds' were destroyed."
Bratchuk also reported that Russia's Black Sea fleet ships are still stationed in the waters of the Black Sea. And there are missiles being launched off two missile carriers. And noted that there is also a Russian submarine, and three large landing ships in the area.
He also said that Ukraine is remaining on "high alert" due to the threat of more missile strikes.
Ukraine bombarded by Oniks missiles 
On the night of June 18th, the Ukrainian Air Force shot down two more Russian Oniks missiles over the same area in the Odesa Oblast (Crimea).
Serhii Bratchuk in a comment to Ukrainska Pravda, Operational Command "Pivden" explained that the latest new missiles were the same type as those shot down the night before.
He also noted that both attacks were fired from a Russian coastal missile system into the Crimea.
"The enemy is trying to destroy the infrastructure of regions where there are no military operations as much as possible in order to exert psychological pressure on the population and undermine the economic and strategic reserves of the state." 
And he added that "The air defense forces have disrupted the implementation of insidious enemy plans."
Ukraine needs prepared to fight Russia with shovels
Since Russia invaded Ukraine they have launched about 1,000 missiles at targets in Ukraine. And Ukraine desperately needs a more seamless air defense system.
Foreign Minister Dmytro Kuleba said in an interview with German public TV that Ukraine will continue the fight. 
"If we do not receive weapons, then we will fight with shovels, but we will defend ourselves because this is a war for our survival," he said.
There have been delays in Germany and other countries in delivering various weapons promised to Kyiv. 
Kuleba emphasized, "The sooner we receive weapons … the greater the help for us. If weapons are sent later, we will still say 'Thank you,' but then a lot of time will have been wasted, a lot of people will have died."
He also acknowledged that Ukraine has substantially less weapons than Russia. And he added that "we cannot win the war with such an imbalance."