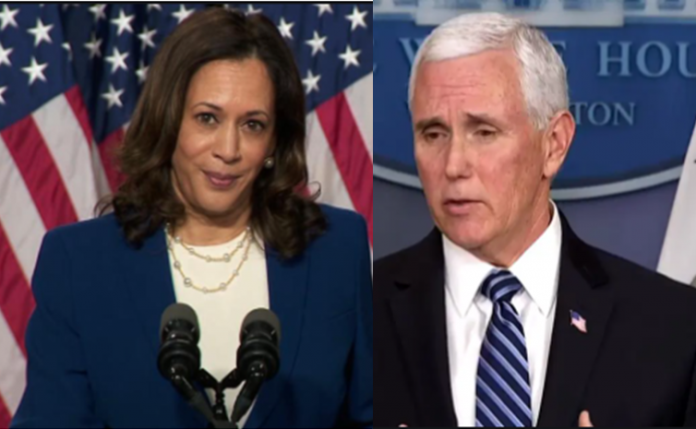 During the upcoming vice presidential debate,  Kamala Harris and Mike Pence will be separated by a wall of plexiglass, according to a person familiar with the event planning.
This is a second measure being utilized by debate planners following revelations that President Donald Trump tested positive for COVID-19. The news led to former Vice President Joe Biden to get tested immediately for the novel coronavirus due to fears he had contracted the disease when debating Trump last week. Biden's COVID-19 test result came back negative.
Harris and Pence are set to debate at the University of Utah. Every person who will be present at the venue will be tested for COVID-19 ahead of the debate and will also be required to wear a mask as an extra precaution.
According to a fact sheet issued by the Commission on Presidential Debates, "Plexiglass will be used as part of the CPD's overall approach to health and safety." The Commission added, "Everyone in the debate hall will be subject to a variety of health safety protocols, including COVID testing and mask use."
A warning was issued to upcoming audience members, saying "If anyone does not wear a mask, they will be escorted out."
Interestingly enough, Vice President Pence's campaign has made it clear that they oppose the use of plexiglass, as Pence's spokeswoman Katie Miller told NBC News, "If Sen. Harris wants to use a fortress around herself, have at it."
It was also originally planned for the two candidates to be separated 7 feet from each other, which has since changed to 12 feet.
For Americans tuning into the debate, the change in procedure and extra precautionary measures will be a grim reminder of the pandemic that continues to disrupt practically every facet of American life.
—————————————-
Have a story you want USA Herald to cover? Submit a tip here and if we think it's newsworthy, we'll follow up on it.
Want to contribute a story? We also accept article submissions — check out our writer's guidelines here.