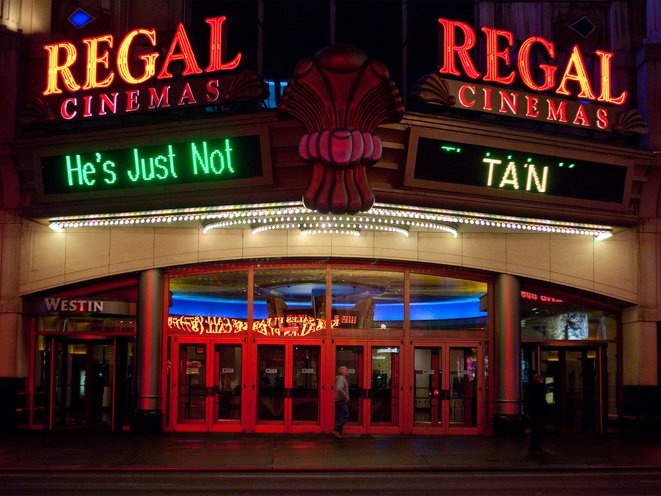 Cineworld Group plc (OTCMKTS: CNNWF), the parent company of Regal Cinemas officially announced its decision to suspend all of its movie theater operations in the United States and the United Kingdom. 
Regal Cinemas, the second-largest theatre chain in the U.S., posted a 1.6 billion dollar loss in the first half of 2020. All of its 663 theaters in the U.S. n the U.K. will be closed and  7,000 movie screens will go dark.
Around 45,000 Regal Cinemas employees including 40,000 in the U.S. and 5,000 in the U.. will be impacted by what Cineworld claims a temporary closure.
Cineworld's stock price traded as much as $2.97 a share a year ago. On Friday, its shares traded just below $0.52 per share. The company's stock plummeted by 25% to $0.39 a share following the news about the closures. 
In late August, Regal Cinemas started to reopen some of its theatres that had been closed for months. But the decision was reversed when the James Bond franchise's No Time to Die was put on hold until 2021.
"Simply impossible" to keep theaters open amid the pandemic
The closures reflect "an increasingly challenging theatrical landscape" due to the ongoing pandemic and are temporary. Regal plans to  "continue to monitor the situation closely," in hopes of getting a date to re-open.
"This is not a decision we made lightly, and we did everything in our power to support a safe and sustainable reopening in the U.S.," said Mooky Greidinger, CEO of Cineworld. 
Greidinger added, "There has been no evidence to date linking any COVID cases with cinemas." He also said the company was frustrated that Regal Cinemas is not allowed to operate in New York state, their key market in the US. But some other indoor venues such as bowling alleys and casinos have permission to resume their business operations.
Furthermore, he said, "The prolonged closures have had a detrimental impact on the release slate for the rest of the year, and, in turn, our ability to supply our customers with the lineup of blockbusters they've come to expect from us. As such, it is simply impossible to continue operations in our primary markets."
Major movie studios have been forced to delay the release of dozens of films since the pandemic started. In the meantime, theaters have sat empty or showed movies to limited audiences.
Despite the growing number of streaming platforms, the production of movies is at a virtual standstill. As long as the COVID-19 remains a threat, studios will be making fewer movies and theaters will have fewer films to show. 
Movies postponed include likely blockbusters Black Widow, Candyman, A Quiet Place Part II and Wonder Woman 1984.  The Disney company shifted some of its high-profile releases to online-only, this includes the much-touted Mulan.
AMC, the largest US theater chain, has experienced over 2.4 billion in losses due to the pandemic. Despite a rebounding stock market in some sectors, the layoffs continue. Disney recently announced that it will lay off 28,000 employees due to the COVID-19 pandemic. 
—————————————-
Have a story you want USA Herald to cover? Submit a tip here and if we think it's newsworthy, we'll follow up on it.
Want a guaranteed coverage? We also offer contract journalism here. We practice journalism ethics and standards. We strive to present news stories with accuracy, fairness, impartiality, integrity, truthfulness, and public accountability.
Want to contribute a story? We also accept article submissions — check out our writer's guidelines here.