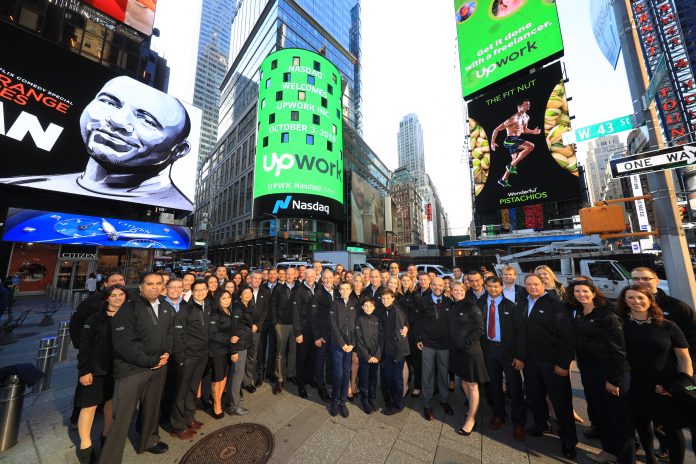 Over the past 2 earnings reports, Upwork has exceeded the expectations of Wall Street and has shown exceptional results.
First Quarter 2019 Financial Results
Gross services volume (GSV) increased by 21% year-over-year to $487 million for the first quarter of 2019
Revenue increased by 16% year-over-year to $68.9 million for the first quarter of 2019
Core clients grew 22%​ year-over-year to approximately 111,000 as of March 31, 2019
Client spend retention increased to 107% as of March 31, 2019, up from 103% as of March 31, 2018
Second Quarter 2019 Financial Results
Gross Services Volume (GSV) grew 20% year-over-year to $518.8 million
Revenue grew 18% year-over-year to $74.3 million
Core clients grew 21% year-over-year to approximately 116,000
Gross Margin expanded more than 3 points year-over-year to 71%
The stock spiked up, but then sharply dropped.   Why is that?
Simply put because insiders, all of whom have invested heavily in the Upwork platform, have sold some of their stock.
Is that a bad sign?   No, not at all.
Imagine if you had invested millions of dollars in Upwork as a venture capitalist and/or worked on the platform for years, sacrificing many late nights and weekends toiling away on the platform.   The hard work pays off, and Upwork goes public raising over $180M.
For the first 6 months thereafter you are in a lock-up period whereby you can't sell your stock.   Instead you continue to work away on platform, buildling an even better platform that goes on to have record quarter after record quarter in revenue and user growth.
Then finally the lock-up period expires and you have the ability to sell some of your stock.   Considering the amount of sacrifice you and your family have made to get to this point, it is only natural that top executives along with investors cash some of their stock out.
So insiders sell, that's what happens after lock up periods, which almost always drives down the price of a stock.   An overflow of stock becomes available in the market, which gets gobbled up driving the stock price down further.
And that's where we are, as warned by Don Dion of Seeking Alpha:
"When the Upwork IPO lockup period expires on April 1, pre-IPO shareholders and company insiders will be able to sell large blocks of currently-restricted stock.
More than 91 million shares are subject to the lockup period. Just 12.3 million shares are trading pursuant to the IPO.
Significant sales could flood the secondary market for UPWK and cause a sharp, short-term decline in share price when the lockup expires.
Insiders might be particularly interested in cashing in on some of their profits with UPWK shares having a 33% return from IPO.
Aggressive, risk-tolerant investors should consider shorting shares of UPWK ahead of the IPO lockup expiration."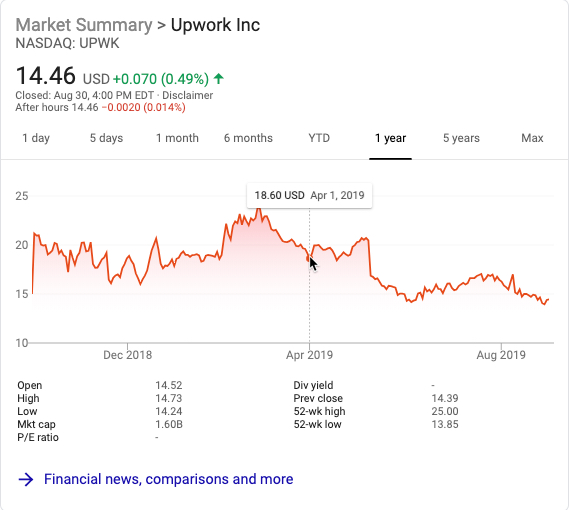 There's an overall consensus of a buy for UPWK, and one bear that recommends a hold: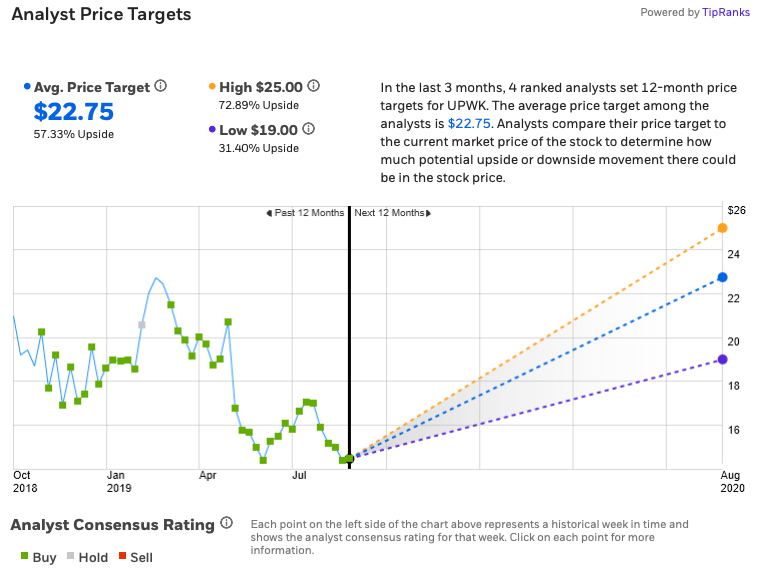 In a report issued on August 8, Mark Mahaney from RBC Capital maintained a Buy rating on Upwork Inc (UPWK – Research Report), with a price target of $25. The company's shares closed on Friday at $15.15, close to its 52-week low of $14.08.
According to TipRanks.com, Mahaney is a top 100 analyst with an average return of 21.8% and a 62.5% success rate. Mahaney covers the Technology sector, focusing on stocks such as Uber Technologies Inc, Trade Desk Inc, and Eventbrite Inc.
Google or Microsoft To Make A Move?
With the stock price depressed and more shares available in the marketplace, sources believe it is only a matter of time before Microsoft will make a move to start acquiring shares of Upwork.
Upwork is disrupting LinkedIn, Robert Half, Zip Recruiter, and pretty much all other recruiting services.   Network effect is increasing and Upwork is attracting more and more businesses, which attracts more talent.
Gone are the barriers to hiring: recruiters, background checks, references, resumes, payroll setup, HR paperwork, and all of the other cumbersome tasks required to setup a W9 employee.
Thanks to Upwork, all of that is simplified and streamlined onto 1 easy to use platform, which I discussed in detail in this article.
Microsoft found itself using Upwork more and more to hire for its projects.   As a natural progression, Microsoft ended up strking an exclusive partnership with Upwork last year and started integrating all of its product offerings, with the exception of LinkedIn.
With that in mind, Microsoft has not yet made a move on Upwork, which leaves the door wide open for other players to take advantage of the depressed stock price.  Google has had a long interest in the recruiting world, and recently announced that it's Google Hire software will shut down in 2020 due to its lack of traction.
Indeed, hiring is changing, and should Google take a controlling position in Upwork, that would place the search giant at the forefront of the recruiting world.  Additionally Google would have a viable tool for monetizing personal name searches on its platform for the first time ever, which has been a long struggle for Google.
Should Google acquire Upwork, that would be a huge blow to Microsoft, whom has fully integrated Upwork into their suite of software services including Sharepoint.  The future of hiring is Upwork, not LinkedIn or Robert Half.   And with no close competitors and a depressed stock price, it certainly increases the odds for Upwork to get acquired.
DISCLOSURE:   I hold a long position in Upwork and have religiously used platform for 2+ years.