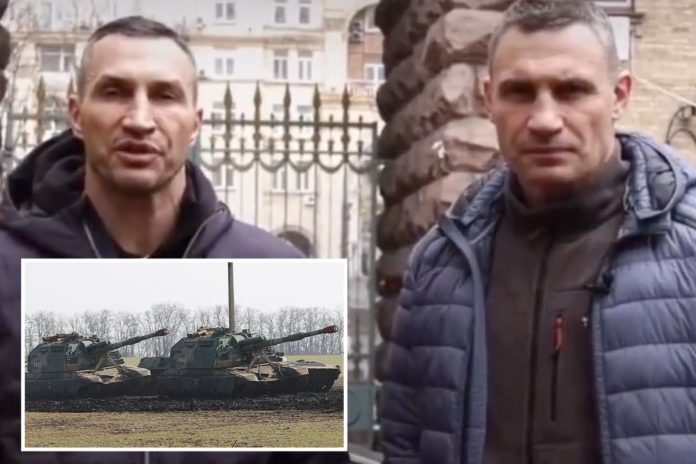 Wladimir Klitschko, Ukrainian former world heavyweight boxing champ says that Ukraine will "close the sky on our own." Since the February 24th brutal Russian invasion, the US and its allies have refused to impose a no-fly zone over Ukraine's skies. 
NATO claims that establishing a no-fly zone would turn the invasion into "a full-fledged war in Europe, involving many more countries and causing much more human suffering."
"[If] allies and partners cannot close the sky over Ukraine, we will constantly get bombarded with rockets and airstrikes," he said.
Klitschko's brother, Vitali is the mayor of Kyiv, the Ukrainian capital where it is being reported that up to 900 civilians were killed in missile and bombing attacks.
Russia has withdrawn from Kyiv and moved east. And they are leaving bombed-out hospitals, train stations, and residential neighborhoods temporarily behind. 
The city of Mariupol has been under siege since the start of the invasion. And aerial bombing has destroyed the once-bustling port city.  
The Ukrainians expect the same tactics will be used throughout their country. 
In the meantime, neighboring countries can't help but wonder if they are next on Putin's list. And even those that don't belong to NATO, like Sweden and Finland, are trying to join. And they are also sending non-military aid to Ukraine. 
Europe is struggling to care for, as many as, 10 million refugees created by the war.
From the US weapons pouring into Ukraine
Washington is expanding the range of weapons deliveries to Ukraine to include artillery, armored vehicles, and helicopters, the Pentagon revealed last week.
"The steady supply of weapons the United States and its allies and partners have provided to Ukraine has been critical in sustaining its fight against the Russian invasion. It has helped ensure that Putin failed in his initial war aims to conquer and control Ukraine. We cannot rest now," Biden said in a statement released by the White House.
US officials have put the value of military aid to Kyiv since February 24 at $2.6 billion.
Recently the weapons convoys have come under attack. And S-300 air defense systems that Slovakia sent to Ukraine last week were destroyed in a cruise missile strike in Dnepropetrovsk, according to the Russian Defense Ministry.
Weapons to close the sky
Javelin anti-tank missiles and Stinger anti-aircraft rockets are being sent to stop the bombing assault. And the US is also sending weapons with "new capabilities tailored to the wider assault." Biden said. 
Ukraine President Zelensky is asking for weapons to prepare for the aerial assault from Russian forces. This assault has already started in eastern Ukraine. 
The US is sending 500 more Javelins and 300 Switchblade kamikaze drones. On the list are 18 155mm howitzers and 40,000 rounds of ammunition.  10 Lockheed Martin counter-artillery radars and two Raytheon air surveillance radars are headed to Ukraine.
The counter-artillery radars are truck-mounted. And the Sentinel 3D anti-aircraft radar is designed to be towed by a Humvee.
 200 of the M113 armored personnel carriers, 100 Humvee armored cars, and 11 Mi-17 helicopters are being sent to move personnel and weapons throughout the country.