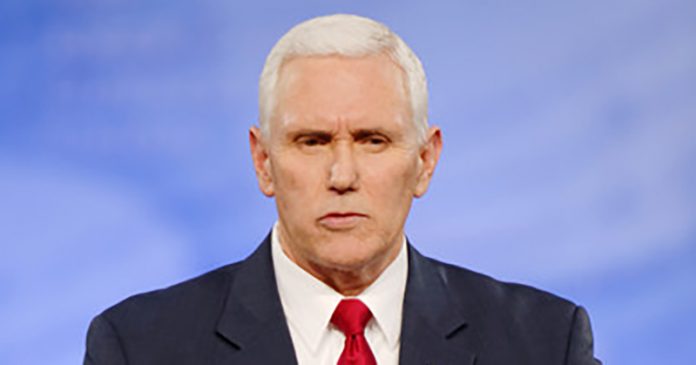 Vice President Mike Pence got a rude greeting from the neighbors at his vacation home in Aspen, Colorado this week.
A stone pillar in front of the home where he and his wife Karen are staying was emblazoned with a rainbow banner and the message "Make America Gay Again."
The banner was placed there by neighbors who reside across the street from the vacation property, according to the Aspen Times.
"You couldn't miss it," Pitkin County Sheriff's Deputy Michael Buglione said, of the banner that sits between the neighbor's home and the vice president's vacation property, on Friday.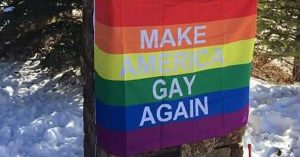 Sheriff Joe DiSalvo said one of his deputies was present when a man came out to place the banner.
"He was real sheepish and thought he might be confronted by the Secret Service or deputies who'd tell him he couldn't do it," the sheriff said. "When they said, 'We're not here to control your free speech rights,' they came out with chili and began feeding them.
"They've been really nice to us."
On Friday night one of the residents of the neighbor's home emailed the Times to correct the sheriff's version of events and brag about what they had done.
"(The banners) were actually hung by the daughters of the couple who live in the home, and one of their girlfriends (I'm one of them!) with the full support of their parents," the woman, Shannon Slade, wrote.
DiSalvo said he supports the residents of Aspen exercising their First Amendment rights, and added that they have a history of being vocal when powerful people visit.
"This town had a history of irreverence when it came to our visitors," He said. "We seem to have lost that a bit, but this is an extension of that."
Slade and her cohorts are thrilled with their sophomoric hijinks, but not everyone thought it was commendable.
Mike Pence's neighbors in Aspen hung a "Make America Gay Again" banner.

I may be gay, but I'm tired of this crap. My life doesn't revolve around my sexuality. I'm a person first. The so-called tolerant left just continues to cause more division in this country.

— Conservative Gay Guy (@ConservGayGuy) December 30, 2017
Mike Pence's neighbors hung up a "Make America Gay Again" sign.

But if someone draped a flag that said "Make America Straight Again" on their porch they would be facing a lawsuit for a hate crime.

Funny how one-sided they are.

— Educating Liberals (@Education4Libs) December 30, 2017
Putting a "Make America Gay Again" flag on Pence's house receives praise from Dems all across America.

Now if I put "Make America Straight Again" signs on all the gay politicians houses, I'd probably end up in jail.

— Collin Rugg (@CollinRugg) December 30, 2017
Mike Pence's neighbors put a Make America Gay Again sign up with a rainbow flag? How about an American flag for once?

Do liberals even own American flags? Also, the gay flag "hurts my feelings", so the confederate flag can be used now, right? We're even??

Asking for a friend.

— Mike (@mike_Zollo) December 30, 2017
'Make America Gay Again' flag draped over Mike Pence property.

This is hugely unoriginal, boring and actually illegal if on private property.

Try doing this little stunt in Pakistan, Saudi Arabia or Iran and see what REAL homophobia looks like. pic.twitter.com/fex2Ze67hW

— GRANT J. KIDNEY 🇺🇸 (@GrantJKidney) December 30, 2017
"Make America Gay Again"
America was never gay to begin with. About 97% of Americans are heterosexual.

— Angela.Kay (@DeepSouthProud) December 30, 2017
Make America Gay Again

You are already free to be gay and guess what, other people are free to not give a shit that you are

— Mel 🇺🇸 (@ImJustAMel) December 30, 2017