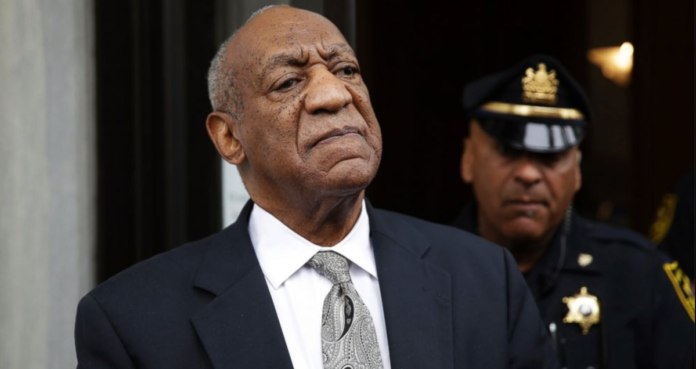 While Bill Cosby's most recent criminal case may have ended in a mistrial, the results of the upcoming civil court case remain to be seen. According to reports from CBS News, a California court has set July 30, 2018 as the court date for a lawsuit alleging that Cosby raped a teenage girl at the Playboy Mansion more than 40 years ago. The date for the case was set more than a year away because prosecutors in Pennsylvania will be retrying a previous case that resulted in a mistrial.
Judy Huth, the plaintiff and alleged victim, accused Cosby of forcing her to provide sexual favors in 1974 when she was only 15 years of age. While the retrying of Cosby's criminal case will occur before the lawsuit regarding the events at Playboy Mansion, Huth has been very clear that those results will have no bearing on her decision to proceed with the lawsuit. Earlier today, her attorney, Gloria Allred made the following statement outside of the Santa Monica, California courthouse:
"Ms. Huth is committed to this civil case, no matter the results of the criminal case against Mr. Cosby. It is not dependent on the outcome of the criminal case. She's proceeding."
Amid all the controversy and legal battles that Cosby is facing, many people have wondered if he will choose to speak out publicly at some point in time. Based on reports from Wral, one of Cosby's lawyers asserted that he will not be making any public statements prior to his second criminal court case in Pennsylvania. However, should Cosby change his mind and choose to speak out, Huth's attorney, Allred has declared that she will possibly hold her own public meeting to detail the vast importance of sexual assault awareness.
Since the California case is over four decades old, the statue of limitations for criminal charges has passed, but Huth was still able to file her civil complaint in court since she was underage during the time of the incident.
Cosby has remained silent, using his lawyers and spokespeople as his voice. He has also denied all allegations made against him. This is unsurprising: most guilty people do not admit to their wrongdoings in a court of law, especially when they have a chance of escaping punishment for their crimes. Nearly 60 women have come out and accused Cosby of drugging and raping them.
One could easily note the patterns and consistencies, therefore making the case that there are too many detailed, specific accusations against Cosby for him to truly be an innocent man….