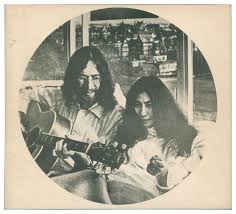 This is the anniversary of John Lennon's death. Are you old enough to remember where you were when John Lennon died?
He was murdered  41 years ago today. There's a lot online about Lennon being murdered with a gun. That's true.
But I'm one of those people that think of John Lennon as more of a cultural rather than a political figure. He was a music icon. And he definitely took to political statements in his last years.
But his life and death are sentimental and personal to me.
I don't spend a lot of time wondering if the murderer would have been successful with a knife instead of a gun.
I remember the day John Lennon died…
I'm 65 years old and I remember where I was the day John Lennon died.
I was really too young to appreciate the Beatles' madness of the 1960s. But the "fab four" separately were a part of my late teen and early 20 years.
I believe I saw Paul McCartney and his group Wings in concert. But my alcoholism was a big part of my life back then. And the concert was a black-out for me. I was drinking so much that my memories are lost forever. I really think it might have been in Houston…oh well.
It was really big news in my high school when John Lennon and Yoko Ono had their Bed-In. They holed up in a New York hotel in their pajamas and were threatening not to leave their bed until Nixon ended the Vietnam war. And the nearest I remember they weren't cutting their hair either.
It was a Peace-In that was all over the news.  And John Lennon was the perfect anti-hero. He wrote beautiful complicated lyrics. He was anti-war, pro-drugs, and a champion of women's rights.
I don't spend a lot of time debating with myself if his pro-drug stance may have influenced the overdose deaths of several of my friends. 
John Lennon was an extraordinary guy. And he was a man of his times and perhaps a doorway to our times. 
I was sober by the time Lennon was killed by a crazed fan. And I will always remember that, as the sun was setting, I was driving by my ex-boyfriend's house. I had just kicked him out the week before. Between the angsty break-up and the death of a hero, I wanted to drink.
I'm fairly certain I would have thrown away my sobriety that night.
But I only got four houses past his garage apartment. That's where I had a flat tire. 
He came out to help me. And we ended up listening to the radio all night long. Lennon's music was all they played over and over. And we both did a lot of crying. We got back together that night. But we didn't stay together.
We went our separate ways and married other people. I stayed sober and feel blessed and grateful to still be alive. Better people than me….many people I loved, died of alcohol and drug-related injuries, illnesses, and suicide. 
I did see Max again, shortly before he passed away. We played some chess. And listened to John Lennon's "Imagine" on CD.
But I never loved Max more than the night John Lennon died.