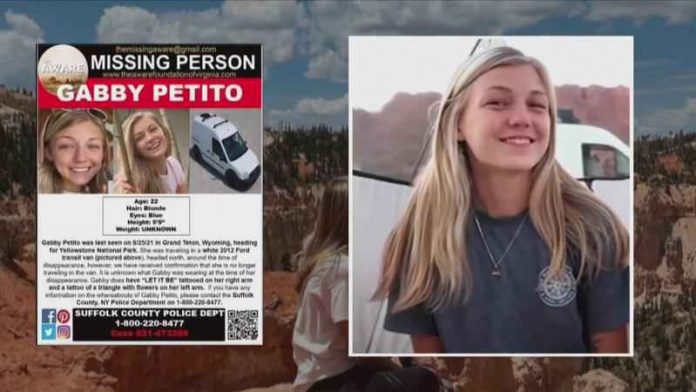 The body of a missing woman was discovered in Wyoming's Bridger-Teton National Forest. She was found largely thanks to a husband-wife team of YouTubers (Red White and Bethune) who had video of Petito's van and tipped off the FBI.  The County coroner positively identified Gabby Petito's body. And confirmed her cause of death as a homicide on Tuesday. 
Petito and her fiancé, Brian Laundrie were road-tripping, exploring national parks, and documenting the journey on social media. Throughout the summer, the couple regularly posted videos, photos, and stories to their social media pages using hashtag #vanlife. They were developing a following for their vlog. And Gabby was developing a YouTube channel Nomadic Statik.
The social media posts stopped abruptly in late August. Gabby's communications with her friends and family also stopped. Laundrie returned to his parent's home, where he and Petito lived, in Florida on September 1st.
Petito was not with him, but he was driving her van.
Petito's Mom, who lives in New York, got increasingly desperate for news of her daughter. Her calls to Laundrie and his parents were not returned. Petito's family discovered on September 10th that Laundrie had returned to Florida without Gabby. On September 11 Petito was reported missing to the Suffolk County Police Department in New York. 
Laundrie and his parents obtained an attorney. And none of them have answered any questions about the whereabouts of Gabby. 
"Anyone with information concerning Mr. Laundrie's role in this matter or his current whereabouts should contact the FBI," Special Agent in Charge Michael Schneider said.
The FBI in Denver requests information from "anyone who may have had contact with Petito or Laundrie or who visited the Spread Creek Dispersed Camping Area between August 27-30 or may have seen their vehicle."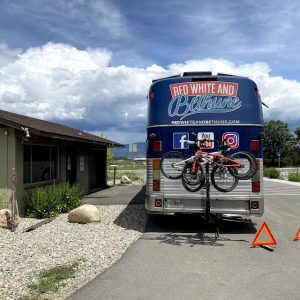 YouTubers provide leads to FBI
The case is an obsession throughout social media.  Even before the FBI got involved authorities were asking for help tracking Gabby and Brian's journey. 
Digital detectives began combing through the couple's online trail. The public was asked for relevant photos and videos of the places the couple visited.
An eyewitness, Jessica Schultz, spotted the couple's white Ford Transit van in the Bridger-Teton National Forest several times in late August. She discussed her "creepy" encounter with the man she would later identify as Laundrie on Tik Tok @jessica.over.yonder. Hashtags trending include:  #gabbypetito #findgabby
YouTube channel Red White and Bethune captured video footage of Gabby Petitio's camper van on August 27th at around 6:00 pm within the Spread Creek Dispersed Camping land. The body was found nearby to where the YouTubers and Schultz spotted Laundrie and the van.
On August 27th the couple was spotted at a local restaurant. Laundrie was reportedly arguing with the staff and acting aggressively. 
Laundrie disappears
Tuesday, September 14th was the last time Laundrie's parents saw him. They say he left home in hiking gear with a backpack. He was headed out to the T. Mabry Carlton Jr. Memorial Reserve near Venice. They reported him missing on September 17th.
"A weekend ground search and aerial search Monday of the 25-thousand-acre preserve has yet to yield any answers, but we must press on," North Port Police said on Facebook. 
Authorities in Florida continue searching for Laundrie. Dogs and searchers have been searching the Carlton Reserve. Police say the area is 75% underwater, which makes it difficult terrain.
The Petito family says they will not comment until the autopsy is finalized and the body is returned to New York.