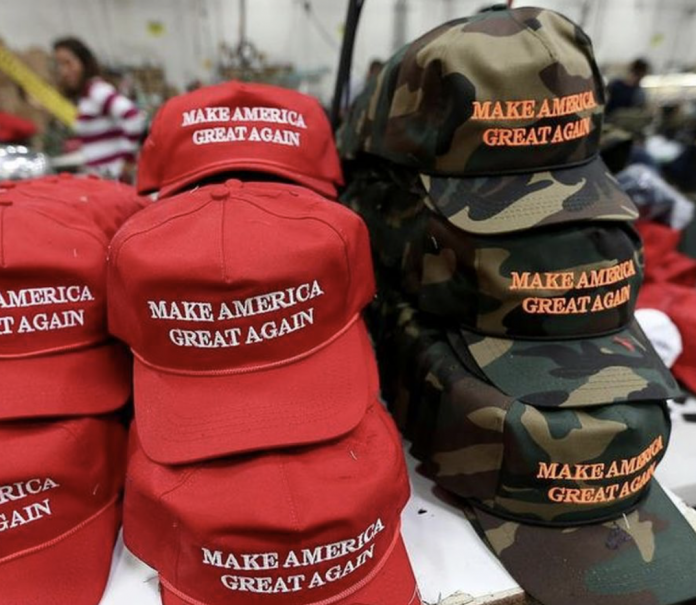 On Sunday, an employee at a Vans store lost his job after swearing at a 14-year-old boy who wore a 'Make America Great Again' hat.
The Incident at the Vans Store
A 14-year-old boy and his mother decided to go shopping at a Vans store at the Kansas-based Oak Park Mall. Neither party expected subjection to expletives, however, this is exactly what happened. Onlookers videotaped the incident which has since made the rounds on social media.
In the video, the mother is seen questioning the store employee who ordered the 14-year-old to remove his hat before saying "f*ck you." After a back-and-forth with the employee, the mother asks to see the manager and explains what happened.
Trump Derangement Syndrome is real. A Vans store employee at Oak Park Mall, Kansas told a 14-year-old "f*ck you" for wearing a MAGA hat. Let's get him fired. pic.twitter.com/PNkPqAxBci

— Ryan Fournier (@RyanAFournier) February 17, 2019
Shortly after the incident, the store issued a statement. In the statement, the public learns of the termination of the employee.
"Our focus is to provide the best customer service experience. We did let this employee go. He is no longer with our company. The actions and comments from this employee at the Oak Park location is in contrast with our values and beliefs."
Finally, Vans noted that they "took care of the situation."
Public Support for President Trump
The red MAGA hat quickly became a symbol of President Trump's 2016 campaign for office. However, there are some individuals who disagree with the president that also seem to believe that going after his supporters is acceptable. This past weekend, authorities took a Tennessee man into custody after he held a Trump supporter at gunpoint in a Sam's Club.
The animosity against Trump supporters has largely prompted conversations regarding rhetoric and the dangers of extremism. Many people in this country furthermore note that going after people with different political views is not helpful or productive in any fashion. Since Trump's time in office, various videos of MAGA hat wearers facing verbal or physical assaults have made the rounds on social media.
Many conservatives have subsequently expressed ideas that the attacks against Trump supporters will only strengthen pro-Trump resolve. Right-wing individuals also maintain that far-leftism ultimately served as one of the catalysts which led to President Trump's election victory.