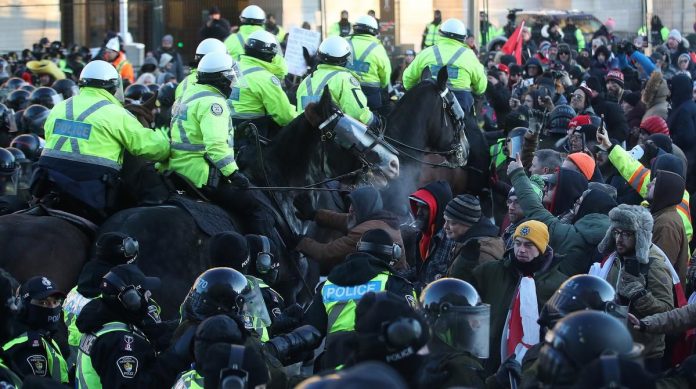 Tonight, Canadian police sent a message on Twitter to the Freedom Convoy protestors. "Get out of the cold and cease further unlawful activity" or we will arrest you. According to interim Police Chief, Steve Bell, 170 arrests have been made in the Canadian protests.
The protests started in an attempt to end cross-border COVID-19 vaccine mandates for truck drivers. And eventually, as the demonstrations grew into multiple blockades it turned against the policies of Prime Minister Justin Trudeau's government.
Police
 clear protests around Parliament
Canadian police began their crackdown on the trucker-led protests on Friday in downtown Ottawa. On Saturday they used pepper spray and stun grenades. And they focused on clearing the crowd from the street in front of parliament and the prime minister's office. 
The protestors had formed a blockade with trucks and camps where they had gathered for three weeks. Freedom Convoys 2022 is a Canadian protest against pandemic restrictions. And Canadians took to the streets in multiple locations.
Tow trucks with their identifying decals removed or masked were towing vehicles that were blocking the roads. 
Pat King one of the organizers, threatened to retaliate against tow truck operators working with police.
Protest organizers said they had asked trucks to withdraw because of what they called heavy-handed police tactics. And many trucks did exit the downtown core on Saturday. At least fifty-three vehicles have been towed, police said.
The protest organizers said protesters had been "horse-trampled" on Friday, which police deny.
"We hear your concern for people on the ground after the horses dispersed a crowd. Anyone who fell got up and walked away. We're unaware of any injuries," police said on Twitter.
Police dispersed the main portion of the blockade in front of parliament and the prime minister's office.
City crews are now cleaning up and towing away remaining vehicles, Chief Bell told a news conference. And other parts of the city had yet to be cleared. So, there is still a risk that demonstrators might change location, he said.
Leaders arrested in Canadian protests
On Monday, Trudeau resorted to the emergency powers acts to give his government wider authority to stop the protests. And he authorized banks and financial institutions to temporarily freeze the accounts of those suspected of supporting the blockades, without obtaining a court order.
Steve Bell warned that protesters, who have been filmed by police, will be held accountable.
"If you are involved in this protest, we will actively look to identify you and follow up with financial sanctions and criminal charges. … This investigation will go on for months to come," Bell added.
 Among the arrests was convoy organizer Tamara Lich. She was arrested and charged with counselling to commit mischief. Before her arrest, Lich told journalists she wasn't worried about being arrested. She believed that the protest was legal. And she also indicated her bank account has been frozen.
The Alberta woman started the GoFundMe campaign that raised over $10 million to support the Ottawa protest. And then it was halted by GoFundMe. 
 Police arrested other key leaders, Chris Barber and Pat King. 
Barber's trucking firm does business in the Prairies and into the United States. And he found out, as he was bailing out of jail, that his business accounts had been frozen. Barber says his "organizing days are over." 
He is charged with mischief, counselling to commit the offense of disobeying court orders, and counselling to commit the offense of obstructing police.
Ottawa's Crown Attorney Office is going to seek a prison term for Barber of more than two years for "tormenting the city" criminally and for inciting protesters to break the law.
Pat King live-streamed his arrest on Facebook in the Canadian protests.
"This is our final stand. … When it ends, it ends and it's in God's hands," said Jeremy Glass, a protester from Shelburne, Ontario.