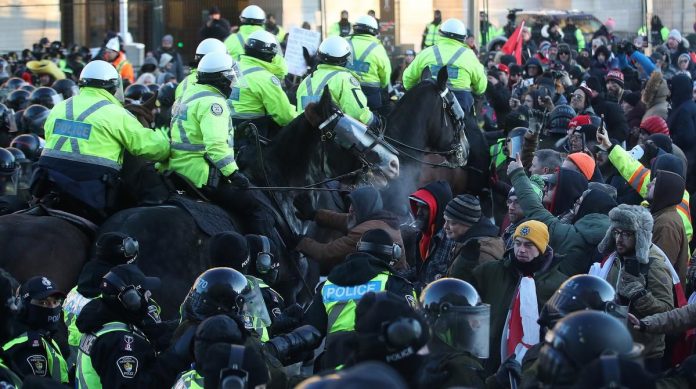 Tonight, Canadian police sent a message on Twitter to the Freedom Convoy protestors. "Get out of the cold and cease further unlawful activity" or we will arrest you. According to interim Police Chief, Steve Bell, 170 arrests have been made in the Canadian protests.
The protests started in an attempt to end cross-border COVID-19 vaccine mandates for truck drivers. And eventually, as the demonstrations grew into multiple blockades it turned against the policies of Prime Minister Justin Trudeau's government.
Police
 clear protests around Parliament
Canadian police began their crackdown on the trucker-led protests on Friday in downtown Ottawa. On Saturday they used pepper spray and stun grenades. And they focused on clearing the crowd from the street in front of parliament and the prime minister's office. 
The protestors had formed a blockade with trucks and camps where they had gathered for three weeks. Freedom Convoys 2022 is a Canadian protest against pandemic restrictions. And Canadians took to the streets in multiple locations.