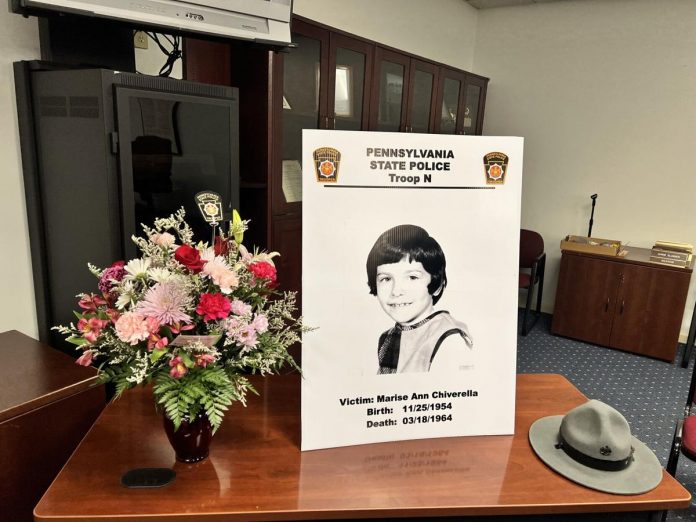 On Thursday, the Pennsylvania State Police announced they had solved a 58-year–old cold case. They used DNA genealogy to identify James Paul Forte as the murderer of 9-year-old Marise Ann Chiverella.
At the live press conference, the trooper who first probed Marise's murder and the little girl's four siblings and extended family were present.
"Over the past 58 years, the Pennsylvania State Police have continuously worked this case and a special thanks to the front-line team," Marise Chiverella's brother, Ron said. "Our family thanks you so much."
Several generations of investigators looked for answers. Over 230 members of the department were involved in the probe over the years. Police interviewed several hundred people and compiled more than 4,600 pages of investigative material. And James Forte was never considered a suspect until 2020.
Forte was 22-years-old at the time of the murder. He died in 1980 of natural causes.
State police Cpl. Mark Baron, the lead investigator, said this is the fourth-oldest cold case in the U.S. to be solved using DNA genealogy. And it is the oldest case in Pennsylvania to be solved with technology.
The death of a child
Marise was kidnaped, raped, and killed on her way to St. Joseph's School in Hazleton, Pennsylvania. 
The school was less than 1/2 mile from her home. She was carrying canned goods for feast day (a Catholic observance) before daily mass and class.
The child was last seen about 8:10 am when delivered. It was noted that she was absent from class, and she never came home for lunch.
 The search started for the missing child at noon. And her body was discovered about two miles away in a coal stripping pit.
Forte was a life-long resident of Hazleton, Pennsylvania. He only lived blocks from where witnesses last saw Marise. In his lifetime he moved frequently. A few years after the murder he was charged with a violent assault against another woman who survived.
Forte, who was 22-years-old, at the time of the murder, died of natural causes in 1980.
DNA genealogy new technology
During the child's autopsy, it was revealed she was hit on top of her head and once in the right temple. Her wrists and ankles were bound with her shoelaces and her scarf was stuffed in her mouth. She was also sexually assaulted.
The evidence was held for decades until the science of DNA developed. And the DNA sample was collected from Marise's jacket in the 1980s.
"In 2007, our Pennsylvania State Police DNA Lab developed a suspect profile from the killer's body fluids, which were found on Marise's clothing," said Trooper Anthony Petroski, "Shortly thereafter, DNA profiles were developed for all the original suspects and submitted to our DNA lab."
The DNA sample was checked monthly, with no results.
In 2019, police released Parabon Nanolabs composite images of their suspect. Parabon uses DNA to create a composite profile. Using DNA features such as sex, skin type, eye, and hair color. The composite showed a light-skinned male with green or hazel eyes.
In 2019 Eric Schubert offered to help on the case.
Genetic Genealogy whiz kid Eric Schubert
Eric Schubert, a history major at Elizabethtown College in Pennsylvania and owner of ES Genealogy offered his services pro bono to the police. He has helped other police agencies crack their cold cases using genetic genealogy. 
This technology blends the use of DNA testing with traditional genealogical research.
 By that time, new DNA technology had established a distant family connection to Forte. It was Eric Schubert, who put together an extensive family tree that helped investigators narrow down the suspect list.
Schubert believed that James Paul Forte was the killer. But Forte was deceased.
State police exhumed the long-dead assailant's body last month. And they found an exact match to DNA left on the child's jacket.
"The investigation that went into all of this work was probably the hardest genealogy task that I've ever faced. This was probably the hardest thing that I've ever done in my entire life," Schubert said. "And it means so much to me that I was able to be on the team that could provide answers to the Chiverella family."