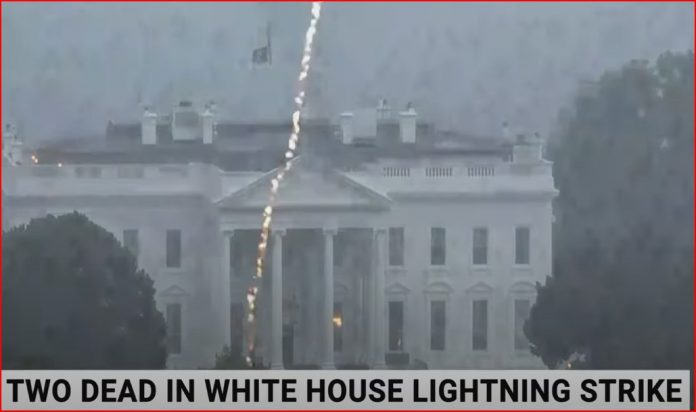 On Thursday evening three people were killed outside the White House when they were hit by a lightning strike. A fourth person remains in critical condition. 
The U.S. Secret Service and U.S. Park Police rushed to aid the victims and provide medical treatment. The victims had sought shelter underneath some trees in Lafayette Park.
The seven-acre Lafayette Park is adjacent to and directly North of the White House. The entire area where the lightning struck is designated a National Historic Landmark.
A Wisconsin couple Donna Mueller, 75, and James Mueller, 76, were killed instantly.  A 29-year-old man also died. His name and the name of another victim who remains in critical condition have not yet been released.
A National Weather Service advisory warning of a severe thunderstorm for the Washington area was issued at 6:30 p.m. until 7:15 p.m. The deadly strike was recorded on local video at 6:49 p.m.
White House lightning strike saddens administration
 White House press secretary Karine Jean-Pierre made a statement on Friday. "We are saddened by the tragic loss of life after the lightning strike in Lafayette Park. Our hearts are with the families who lost loved ones, and we are praying for those still fighting for their lives." 
Chris Vagasky, an analyst for Vaisala, who conducts weather and environmental studies, describes the event as a "6-stroke lightning flash." And says that six separate surges of electricity hit in the same spot in less than a second.
"When you think of cloud-to-ground lightning and you look out and you see lightning flickering, each of those flickers is a stroke that comes down," Vagasky, also a member of the National Lightning Safety Council explained. "For negative cloud-to-ground flashes, which is what this was, there's generally multiple strokes to a flash."
On average, 23 people a year are killed by lightning in the United States. And more than 2,000 people annually die throughout the world from lightning strike events. The deaths in Lafayette Park bring the number in the U.S. this year to 11.
According to the National Oceanic and Atmospheric Administration website "Lightning strikes the United States about 25 million times a year. Although most lightning occurs in the summer, people can be struck at any time of year." Annually hundreds of people are "severely injured."