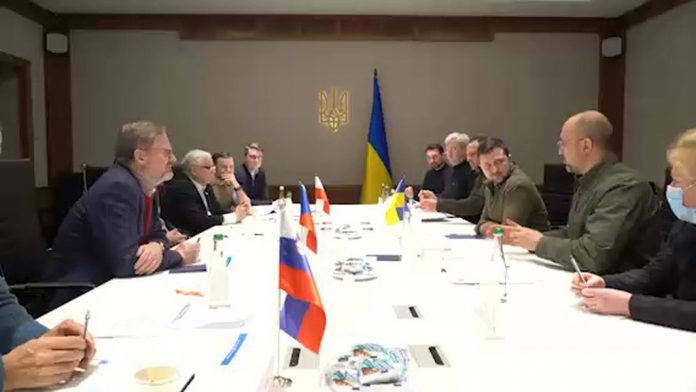 According to Mayor Vitali Klitschko, a 36-hour curfew is underway in Kyiv. Airstrikes hammered the city early on Tuesday morning. And the curfew will be in place from Tuesday night to Thursday morning. 
The curfew was imposed at a "difficult and dangerous moment" after several Russian strikes, Klitschko said in a video posted to his Telegram channel. 
Three Prime Ministers Arrive in Kyiv
In an extraordinary development the prime ministers of the Czech Republic, Poland, and Slovenia arrived by train in Kyiv today. As they rode through Ukraine the Russian assault on some major cities continued.
Petr Fiala, Czech PM said on Twitter that the three leaders would be meeting with Ukraine's President Zelensky and Prime Minister Denis Shmyhal.
"The visit is organized in consultation with Charles Michel, President of the European Council, and Ursula von der Leyen, President of the European Commission. The aim of the visit is to express the European Union's unequivocal support for Ukraine and its freedom and independence," Fiala added.
Polish PM Mateusz Morawiecki posted on Facebook that "We have to halt this tragedy unfolding in the East as quickly as possible." 
All three PMs are from nearby NATO countries. Refugees from Ukraine number over 1 million. The leaders also fear that they might be next. And the world is wondering if Russia would stop if he defeated Ukraine.
36-hour curfew due to Russian bombardment
Fiala, Morawiecki, and Slovenian PM Janez Jansa took the risky journey, as the bombardment continued. It is hoped that the 36-hour curfew will reduce civilian casualties. 
 Many of the citizens of Kyiv are spending nights sheltering in underground stations. And some of the Russian strikes have hit several suburbs of the capital city. And it is estimated that nearly half of its 3.5-million pre-war population has fled the Russian bombs.
Ukraine's capital has been nearly encircled by Moscow's troops in the third week of the invasion. 
Kyiv mayor Klitschko is also part of the citizen army in the Kyiv area. Like most Ukrainians (including President Zelensky and past President Petro Poroshenko) they fight to defend their country.  
In the third week of the war, experts were shocked at the resilience of Ukraine. Moscow and most Western countries believed Russia would win within days. But the Russian forces have been stopped outside Kyiv and have suffered heavy losses. 
The targeting of civilians is creating outrage around the world. And Zelensky continues to wage a historic and heroic battle for his country. On Tuesday, he called on Russian forces to surrender. And said they and their officers already know that the war is hopeless.