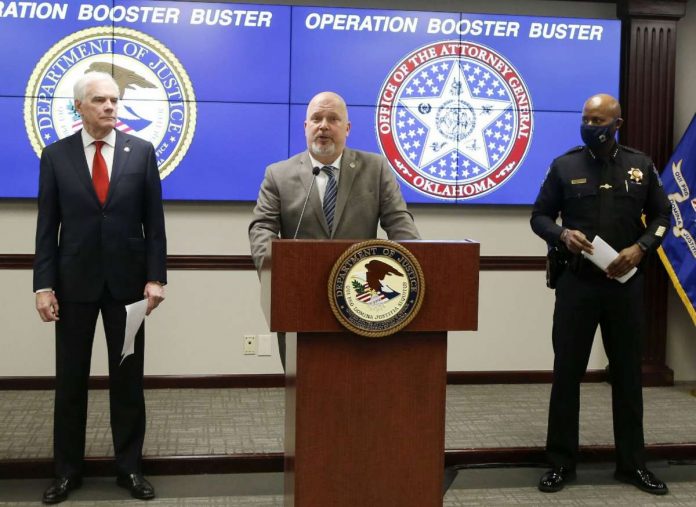 Tulsa-based U.S. Attorney Clint Johnson and Oklahoma Attorney General John O'Connor issued a statement in the arrest of over two dozen people involved in a multi-state shoplifting ring.
 They arrested and charged more than two dozen people for stealing over $10 million in stolen goods. And primarily over-the-counter medications were stolen. The organized theft ring had been successfully operating for over 4 years. 
The Tulsa Police Department kicked off the investigation in 2019. It started when an unnamed organized crime investigator from a pharmacy retailer reported bulk thefts of over-the-counter meds throughout Tulsa. 
It was determined that the gang was operating in multiple states. Then the investigation  became a task force. And it was learned that the shoplifting ring was responsible for the theft of millions of dollars. The investigation was called "Operation Booster Buster."
State and federal charges have been filed against 29 defendants. Johnson says that 25 have been arrested. And four others of those charged are still at-large.
Prosecutors allege that Linda Been, 48 was the ringleader. The Tulsa woman arrested under an alias, is listed in jail records as Linda Gann.
Been and her son, Curtis Leon Gann, Jr were alleged to have sold the stolen goods, including over-the-counter medications, on their eBay accounts.
Been also provided the shoplifters with detailed lists of the items to steal. And she paid their travel expenses to travel from state-to-state. If any of her gang were arrested she provided them with bond money to keep them out of jail.
Members of a large-scale theft ring have been charged by Federal and State prosecutors for their roles in an organization whose operations crossed state lines and caused more than $10 million in losses to retailers. @TulsaPolice @TCSO @HSI_Dallas @USAO_NDOK @Okla_OAG pic.twitter.com/y6J1gFPJVj

— IRS Criminal Investigation (@IRS_CI) January 13, 2022
Shoplifting ring targeted big-name retailers
Over-the-counter medications were on the top of the "to steal" list. That includes prescription-free drugs like Flonase, Nexium, Mucinex, and Allegra. And at this point stolen goods were passed on to "fences" outside of Oklahoma to be sold on e-commerce sites like Amazon and eBay.
Prosecutors say the defendants targeted primarily big-name retailers. And hit Walmart, Costco, Walgreens, CVS, Sprouts and GNC on a daily basis. They operated throughout Arkansas, Colorado, Kansas, Missouri, Oklahoma and Texas. 
"Consumers and businesses incur a high price for thieves who commit larcenies and profit by selling their stolen goods to well-organized theft rings," Tulsa Police Chief Wendell Franklin, said. "Thieves should take notice. Tulsa is not going to capitulate and allow criminals to disrupt commerce in our city."
For clarification purposes a "booster" is a person who steals goods and merchandise. And a "fence"  is a person or organization that purchases or receives stolen goods and merchandise from boosters.  The fence or fencing operation then re-sells the stolen goods and merchandise to third parties.