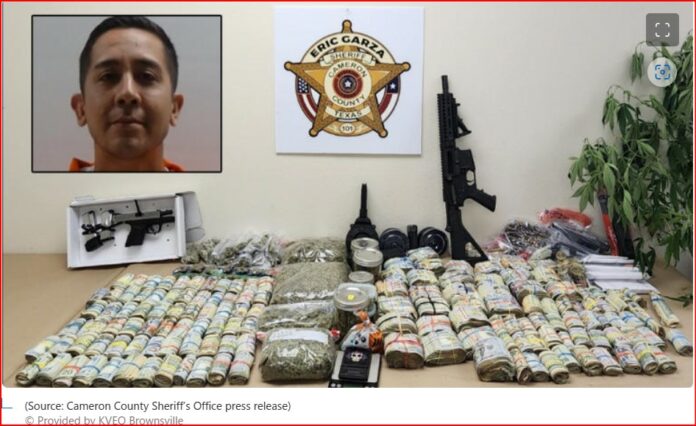 In Brownsville, Texas, a routine traffic stop became a search-and-seizure of cash, guns, and drugs. 
The situation escalated when Michael De La Madrid, 31, jumped out of his car and attempted to flee. Cameron County officers followed on the dramatic foot chase. 
Meanwhile, his wife and children drove off in the family vehicle.  De La Madrid was apprehended and arrested by police.
The charges against him included evading arrest/detention, possession of marijuana, and unlawful carrying of a weapon, as confirmed by a news release from the Cameron County Sheriff's Office.
The incident unfolded when Cameron County K-9 deputies approached De La Madrid during the traffic stop.
 Instead of complying, he stepped out of the vehicle with a backpack and defiantly ignored commands to halt, setting off a thrilling pursuit on foot.  De La Madrid left his wife and four children behind in the van, as he desperately tried to escape.
Ultimately, law enforcement caught up to  De La Madrid and made the arrest. That's when they examined the backpack and discovered a handgun and 7.1 ounces of marijuana concealed inside.
Search-and-Seizure
However, the plot took an unexpected twist when deputies returned to the traffic stop scene. To their surprise, De La Madrid's wife and children had vanished, leaving authorities puzzled about their sudden disappearance.